Call Ernie
As a performer, composer and director, forty-three-year-old Ernest (Ernesto) M. Libonati (1860-1935) had in 1903 been a fixture in Chicago musician circles for over a decade. He could have been a regular in the Iroquois Theater orchestra or a fill-in musician for a single performance. His primary instruments were the violin and mandolin but he also played the flute and almost certainly the cello, piano and xylophone as well. That kind of instrument versatility and his connection to many other Chicago musicians, including family members, might have put his name near the top of the list for Chicago orchestra managers.
In an era with a live orchestra in every theater, and at many social gatherings, keeping chairs filled would have been a challenge. The Rothschild department store on State and Van Buren even offered live music in its restaurant for the weekday lunch crowd. Phonographs were popular in homes but the invention of amplifiers for large venues was six years away.
For the Wednesday afternoon matinee on December 30 Ernest played the violin – alongside his college-age son, Michael. The Iroquois orchestra's regular cello player was absent so twenty-one-year-old Michael Ernest Libonati filled in. Michael, who sometimes went by his middle name, was a student at the University of Michigan, home for the holiday, probably glad to earn a few extra dollars.*
Escape
Father and son Libonati escaped from the Iroquois without injury. Ernest saved his violin but the cello was left in the orchestra pit. When it caught fire, orchestra director Anthony Frosolono decided it was time to flee. Upon opening the primary door from the orchestra pit to the basement beneath the stage, they were met with flames. They took another corridor instead, breaking down a door to get to the costume department and engine room, and on to stairs leading up to the back of the stage and out to the Dearborn street exit. The basement by that time was sufficiently smoke-filled that some performers escaped through a coal chute and manhole in the street. Thirty years later Ernest described having grabbed a six-year-old performer and pushing him up through the coal chute.
A fiddler's life
Ernest and his wife, Flora (Fiora) Pellettieri† Libonati (1863-1953), immigrated to the United States from south-central Italy with their parents in 1872 as youngsters. Ernest's parents were Michael and Rosa de Roma Libonati.
Ernest and Flora married in 1881 and by 1903 had six children aged seven to nineteen, three sons and three daughters: Michael, Rosamond (biography), Isabella, Elliodor, Ellinore (Mariassunta) and Roland. A seventh, Luigi, died as a toddler. Most of those years the family lived in a flat on an upper floor at 416 and the adjacent 420 South Clark in Chicago.‡ Other family members shared the address over the years, including Flora's sisters and their families, Maria Emanuello Pellettieri DeStefano and Josephine Pellettieri Franco. Josephine, her husband Frank, and their sons were also musicians.
In addition to hiring out to orchestras, Ernest gave music lessons, in the 1890s directed his own band/orchestra, and composed music. In 1903 his music studio was in room 501 at the Handel Hall at 40 E. Randolph, next to Marshall Field department store and a few blocks from the Iroquois Theater. (Handel Hall had previously been known as the LeMoyne Building and housed the Western News Company.)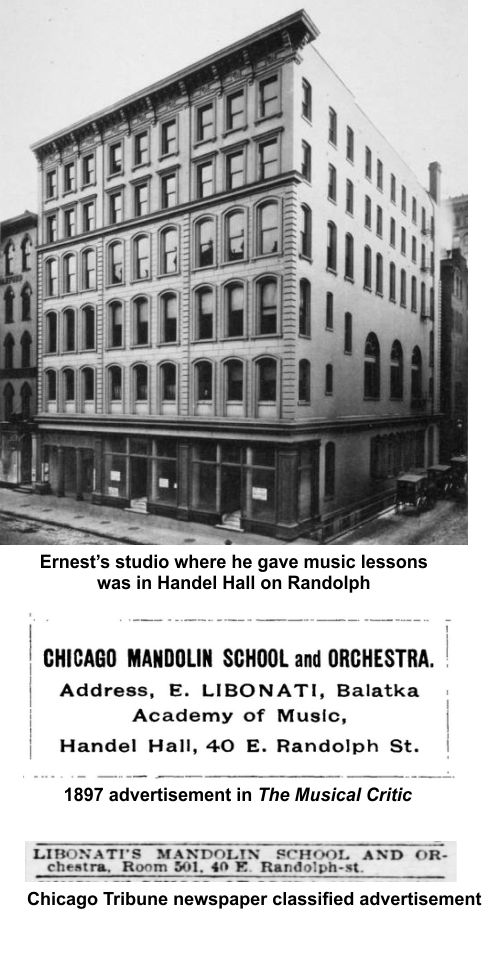 The instrument for which Libonati was best known was the mandolin. He gave lessons on the instrument and was the director of the Chicago Mandolin Orchestra. In 1902 appeared sheet music for three of Ernest's polka compositions for mandolin and piano: "Jewels of Joy," "Heart's Delight" and "Kiss in a Letter," as well as "Echo's of the Past" for mandolin and guitar. Ernest also sat First Chair in the Bohmann Quartett, a group of Chicago musicians sponsored by the Bohmann company, manufacturer of mandolins and guitars. (See accompanying advertisement.) Other members of the quartet included Ernest's three brothers-in-law, fellow mandolin player Charles Pellettieri, John (Giovani) Pellettieri on flute and Francesco Franco on the harp. Prior to his involvement in the Chicago Mandolin Orchestra Ernesto was First Soloist of Valisi's Florentine Orchestra and the Tomaso Orchestra. Ernest was a man at the right time and place to cultivate the Golden Age of the mandolin.
In the years after the fire
Ernest's survival at the Iroquois Theater helped ensure the education and success of his children. Four of six graduated from college – a major accomplishment in an era when fewer than ten percent of the population did so. Three became attorneys and politically active, Ellidore as an outspoken opponent of communism and fascism, Roland as an elected official and Michael with a run for an assistant judgeship. One daughter married a baron and another a doctor.
Roland represented his Illinois district in the House of Representatives from 1957 to 1965. A colorful character, nicknamed "Libby," Roland served in the 86th Division Infantry during World War I. Afterwards he graduated from the University of Michigan and Northwestern, passing the bar in 1924. (The Libonati focus on scholarship continued when his son, Michael E. Libonati's namesake, became a law professor.) In a 1977 interview, Roland briefly mentions his father's music studio. (Family remarks start around 6:42.)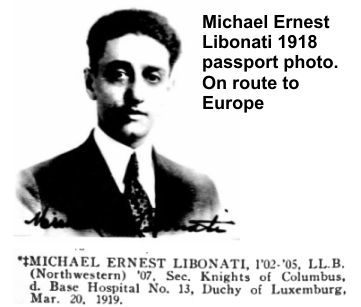 Substitute cello player at the Iroquois, Michael E. Libonati (1882-1919), the oldest of Ernest and Flora's boys, graduated from the University of Michigan and became an attorney. He started a wholesale poultry business in Curryville, Missouri and experimented with politics, but in 1918, with his two younger brothers overseas in World War I combat, he put his legal career on hiatus.
Too old to enlist, he joined the Knights of Columbus in France as an "overseas secretary" to assist American Expeditionary Forces fighting in Europe. Known as "Caseys," K of C volunteers operated clubhouses for soldiers, delivered supplies, performed first aid to the wounded and visited them in hospitals to provide stamps, stationery supplies and letter-writing help. It was in that last service where Michael may have contracted the illness that took his life in March 1919, four months after wars end.
According to a 1921 Knights of Columbus history by Joseph J. Johnson, Michael contracted influenza during the worldwide 1918-1919 pandemic that killed over one million American soldiers (about 1/3 from doc top). His funeral service was held in France, led by Chaplain Arthur L. Girard, a Chicago clergyman, known attendees being Chaplain John O'Hearn and James Daly, also Chicago men, Daly a fellow Casey. Michael's grave marker states he died in Coblenz (Koblenz) Germany but his college alumni newsletter reported that he died at the Evacuation Hospital at Wolferdange, Luxembourg, about two hours away, of pneumonia meningitis.
Not all good memories for Ernest
At a 1934 gathering of the Iroquois Memorial Association on the thirtieth anniversary of the fire, Ernest spoke reflectively of his children's success but also of life's disappointments, including Michael's death, the only musician amongst his children. He mentioned too that they had lost a lot of money in the 1929 stock market crash. Ernest was seventy years old and one of only six surviving members of the Iroquois orchestra.
In his recollection, the fire curtain had caught on an aerialist guidewire. It didn't; at legal inquests, a dozen stage workers testified about their struggle to release the fire curtain from the strip light obstacle. From the orchestra pit, Ernest could not have seen the obstacle or the struggle but it is interesting that perhaps he did not follow disaster coverage in the newspapers. Might be he'd had enough of the Iroquois. He never played in the structure again.
Discrepancies and addendum
Another Libonati made it big in Ragtime. In the early 1920s, the musician in the family with celebrity recognition was ragtime xylophonist Caesar Jess Libonati (1885-1965), Ernest's younger half brother. Jess recorded several records and toured the country. Prior to his success with the xylophone, he performed as a drummer in the Buffalo Bill Wild West show. A charismatic and colorful fellow into old age.
* Back in Ann Arbor, when school was in session, Michael Libonati worked as a part time waiter at "Prets," formally known as the Campus Club and Prettyman's Boarding House, where he served the athletes who made it home – Michigan Wolverine's varsity football and their legendary coach, Fielding Yost, who led them to six national championships and ten Big Ten Conference titles during his twenty-five years coaching the team.
† Sometimes misspelled as Pelletire or Pallatira.
‡ According to a biography about daughter Rosamond, among the ground and basement level retail businesses below their family's flat was a bakery owned by her uncle DeStephano and for a time a restaurant or bar with which Ernest was owner or manager. I failed to find anything about Ernest and a bar or restaurant. The Rosamond biography relegates Ernest to a near footnote: "Rosa Libonati's father was also a musician who played for the family's parties. Eventually, he played music in a small Italian orchestra in halls and restaurants." As though music were Ernest's hobby, a diversion from his restaurant business. The evidence reveals a much different picture. From his arrival in Chicago in 1888 until his death, the only newspaper references to the man other than his obituary were relative to his musical career. For U.S. Census reports he described his occupation in 1900 as a music teacher, in 1910 as a violin professor and in 1920 as a musician in a cafe. In Chicago city directories for twenty-three years, 1888-1911, he described himself as a musician and/or music teacher. For many years he ran classified advertisements in the Chicago Tribune for mandolin lessons and rented a studio in which to conduct those lessons. Rosamond described her mother as the ambitious disciplinarian in the family. Perhaps Flora's ambition and Ernest's passion were not always aligned.