Rosamond and Ella were Hyde Park girls from affluent families. Rosamond was a college student and Ella a student at the Art Institute. A matinee at Chicago's newest playhouse, the Iroquois Theater, was a perfect way to spend one of their last days before studies resumed.
Nineteen-year-old Rosamond P. Parrish
(b. 1884)
was a student and Kappa Kappa Gamma sorority member at Wisconsin University in Madison, home for the Christmas holidays.*

S

he was the daughter of

Charles and Martha

Luey

Parrish

and sister of four siblings aged thirteen to twenty. The family

lived at

the corner of K

imbark

and

47th St. in Chicago.
After a two-day search Charles found Rosamond's body at Rolston's Funeral Home. Her funeral was held late in the afternoon Monday, January 4, 1904.
Rosamond was named after her paternal grandmother.
Charles Parrish
was a successful merchant and manufacturer. After founding a

hardware/upholstery company, Gibson, Parish & Co.

, he turned to sheet metal fabrication.† His businesses were prosperous enough for the family to own their home

a

t
4717
Kimbark and employ two domestic workers.
Rosamond had other relatives in the audience. On the first floor was
her

aunt

Flora Parrish Tobin (1843-1916) and two of Flora's

grandsons,

eleven-year-old

John

Wright (1892-1972)

and

thirteen-year-old

Frank Lloyd Wright Jr.

(1890-1978)

who would become one of America's best known architects.

F

lora was known in the family as "Blue Gramma," given the name by color-blind Frank Lloyd Wright Jr. who saw her red hair as blue.
The story went that Blue Gramma led the boys from the Iroquois auditorium by sticking a hatpin into anyone who got in their way. Nevertheless, she and the boys were separated and John found himself standing outside the theater feeling overwhelmed until his father arrived and they spotted one another. While his father went inside to look for Lloyd and Blue Gramma, Blue Gramma escaped and met up with John. She found a telephone, called home and found Lloyd already there. He had borrowed cab fare from a stranger and was safe and sound.
Twenty-one-year-old Ohio native Eleanor "Ella" B. Linden
(b.

1

882)

was the daughter of attorney James and Eleanor

B. Thomas

.

The

Linden

family

lived at 4625 Lake Avenue in Chicago.‡
Ella's body was found at Jordan's Funeral Home and identified by her brother, Frank W. Linden (1878-). Frank was one of two brothers. A fourth Linden child died
as a toddler in 1882.
Ella's funeral was held late in the afternoon Saturday, January 2, 1904. The body was cremated and the ashes sent for burial at Woodland Cemetery in Dayton, Ohio.
"Under the burden of this great calamity
we can but look into thy face, O God, as children, humbly whispering: 'We cannot understand. Help thou our unbelief. Thy will be done."
Rev. Austen K. de Bloi

s speaking at Ella's funeral service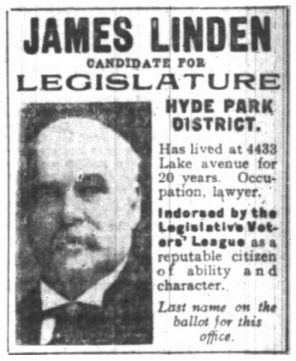 In the years after the fire
Friends and former classmates of Ella Linden raised money to start a scholarship in her name for a years tuition at the Academy of Fine Arts (Art Institute of Chicago).
Ella's father, James Linden, became a judge. In retirement the family moved to a farm. He died when a train hit his automobile.
* Some newspapers mistakenly reported her name as Rosalind rather than Rosamond.
† The retail establishment was later named Lusky, White & Coolridge
‡ Sometimes misspelled as Lindon