For Mabel McMillan, with an infant and a toddler to look after, and living with three families and thirteen people under one roof, a few hours at the theater might have seemed like the best-ever Christmas treat. Her theater companion, one of her housemates, thirteen-year-old Alice Prescott, was just the right age for the magical performance of lights, glamorous costumes and aerial ballet. Klaw and Erlanger's Mr. Bluebeard production did not win the respect of theater critics but for young people it was an exciting Christmas holiday pageant. Adding to the appeal was the setting, Chicago's newest luxury playhouse, the Iroquois theater on Randolph Street.

It isn't known where the pair was sitting but Alice Prescott's later testimony of being expelled out into Couch Place alley suggests they were in the northeast corner of whichever floor they were on, and that they were in the doorway of a fire exit. The explosive thrust she described came when a back draft hurled a fire ball into the auditorium.

Mabel's body was found at Rolston's Funeral Home and was identified by her husband. The funeral was held Saturday after the fire and interment was in Rosehill Cemetery.

There were three families living in Joseph Bright's home at 2824 N. Hermitage in Chicago.

Joseph Bright and his wife, Margaret Bridget Bright, and Margaret's brother, George Evans.

Mabel Bright McMillan (Joseph and Margaret's daughter), her husband, Frank McMillan, and their two daughters, infant Bertha McMillan and toddler Margaret McMillan.

Harlan Prescott and his wife, Bertha Boge Prescott, their teenage daughters, Alice and Margaret Prescott, a niece and nephew, Norma and Raymond Tilley, children of Bertha's sister, Emma Boge Tilley.*

I failed to find a familial connection between the Prescotts and the Brights but it seems likely there was one.

Alice Elizabeth Prescott (1887-1953)**

Sixteen-year-old Alice Prescott was the daughter of Harlan and Bertha Boge Prescott. Harlan was a veteran of the American Civil War, serving for three and a half years.

In February, 1904, Alice testified about her Iroquois experience, including the Bickford youngsters shortly before their deaths.

~~~~~~~~~~~~~~

Frank also patented an automotive carburetor.

Mabel Bright McMillan (1880-1903)***

Twenty-three-year-old Mabel was the daughter of Joseph (1832-?) and Margaret Bridget Evans Bright (1837-1908). In 1900 she married Frank Edwin McMillan (1871-1940) and their first child, Margaret McMillan (1902-1997), arrived in 1902. The second, Bertha McMillan (1903-1982), came in October, two months before the Iroquois Theater fire.

Mabel's husband Frank was one of four children born to Henry (1849-1889) and Mary Brown McMillan, immigrants from Canada and England.

McMillan and Roebuck movie projectors

In corporate registrations for 1904 and 1905, Frank McMillan was reported as president/manager of the Enterprise Optical Mfg company and Alvah C. Roebuck (of the Sears, Roebuck Co.) as secretary. Despite Frank's title, Roebuck's money was behind the corporation, and it was Sears catalog exposure and Roebuck's marketing experience that propelled sales and gave the brand wide-spread recognition. The first Motiograph, introduced in 1896, was actually an entertainment kit designed for churches, fraternal organizations and amateur theatricals. It consisted of a magic lantern, fifty or so hand-painted glass slides, advertising posters, tickets and an instruction manual. Two years later came the Optigraph that Roebuck would in his memoirs describe as the first practical motion picture projector. In correspondence Roebuck credited Frank McMillan for designing the Optigraph but did not mention Frank in his memoirs. My antenna tells me there is a story behind that omission but I've thus far failed to learn what it is.

Frank was not an educated man, perhaps giving he and Alvah Roebuck two things in common. Frank's mother, like Alvah's parents, was a native of England, and Frank's affinity with engineering, metal and machining, like Alvah's affinity for watch making, was self taught. Frank might have benefited from the experience of his father-in-law, Joseph, a machinist, and his late father, Harry McMillan (1849-1889), a photographer.

Frank's brother, Arthur M. McMillan (1875-1922), went into the movie film rental business, operating the Unique Film and Construction Company then the Exclusive Film Exchange. He claimed to have gone into film rental after "selling out" his interest in a partnership with Frank after they developed the Optigraph projector.

In the years after the fire

The Bright and McMillan families continued to live on N. Heritage Street in Chicago until at least 1909 and it is probable that from 1903 until her death in 1908, Bertha and Margaret's grandmother, Frank's mother-in-law, Margaret Bright, looked after the little McMillan girls. At her death Frank remarried. His new wife, Pennsylvania native Maude O. Miller (1880-1956), was twenty-eight when she took on raising a five and six year old who'd just lost their grandmother and mother surrogate.

In 1910 Frank's family made up five of the three hundred residents of Milton, Illinois, a town near the Illinois border north of St. Louis, MO. Mabel's aged father Joseph Bright, widowed by then, moved with them to Milton. In 1919 the family moved to Santa Cruz, California, south of San Francisco, living at 270 N. Branciforte Ave. Within a few years, however, Frank went back to Chicago and did not return to live with Maude full time until 1931 when his inventing days seem to be behind him. The last evidence of his involvement in product development was in a 1924 Santa Cruz city directory when he gave his occupation as "curl carver."† His death came in 1940 at age sixty-eight after a five-year illness. This was about the time his son and namesake graduated from high school (see below).

Mabel's girls did not attend college. They worked for a few years, married and had families. Margaret worked at Woolworths and as a stenographer, then married William L. Wrenn, with whom she had two children, the family living in Burlingame, CA near San Francisco. Bertha also worked as a stenographer, married Charles W. Strother, honeymooned in Yosemite and had one child, the family living in Piedmont, CA near Oakland.

Alice Prescott attended college for two years, married Frederick Klicka and had two children. They too relocated to California, in San Diego. Her visits to Maude and the girls in Santa Cruz were sometimes reported in society columns of the Santa Cruz newspaper.

---

In 1922 Maude bore a son by Frank, Frank E. McMillan Jr. (pictured above), who grew up to attend Salinas Jr. College, where he was involved in college theater. Frank Jr. was also enrolled, briefly, in Warner Brothers talent school before enlisting in the army in September, 1942. Many big studio's operated talent schools. In the mid 1950s, reportedly, WB's school produced Natalie Wood and Connie Stevens; other studio schools produced Van Johnson and June Allyson. It isn't known whether Frank's enlistment was a response to patriotism, impending conscription or insufficient cinematic talent.

After graduating in 1943 from the AAF photography school in Lorry, Denver, Frank Jr was by 1945 a sergeant with combat intelligence on Tinian in the Mariana Islands. In that capacity he prepared photos and maps for flight kits used on the B-29 Fortress planes that dropped atomic bombs on Japan. (Unrelated to Manhattan Project scientist, Edwin McMillan.) Plucky mom Maude McMillan kept Santa Cruz newspapers apprised of her boy's every academic and military wiggle, including his stint as a highway maintenance worker during the summer between years in junior college.

After World War II Frank Jr. worked as a commercial artist.

---

Discrepancies and addendum

The newspaper paragraph pictured at top of accompanying image contains an inaccurate address. The Brights, McMillans and Prescotts lived at 2824 N. Hermitage, not 2284 N. Hermitage. And the Glenn Bickford referred to in the paragraph was sixteen years old, not a "little boy."

* Bertha's last name was spelled Baga Boge Borge Borgen.

** On Alice's birth certificate her name was recorded as Emma Allise Prescott but in other documents throughout her life it was recorded as Alice Elizabeth Prescott.

*** In some lists and records Mabel's last name was spelled McMillen or McMullen and her age was reported as twenty or twenty-eight.

† The curl carver may have been a hair styling invention by Frank but that's just a guess, didn't find patent information about it. In 1941, a year after Frank's death, such a device was supported with a modest newspaper advertising campaign so if it was a McMillan creation, perhaps he or his heirs sold the rights and inventory.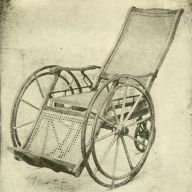 Theater scrubwoman dies, brave daughter escapes

Teenagers Bour and Graham survived Iroquois Theater fire
John R. Freeman Theater fire investigator

James Cummings Iroquois Theater stage carpenter

Chicago police chief Francis O'Neill

Columbia theater managed by Davis also burned

Nellie married her boss

Chicago 1903 Building Department

First visit to Chicago

Emily Henning and her four sons

William Boice family Iroquois Theater victims

Lizzie Danner was left with a blue vase and pink bedroom set

Hull family of 4 perished

Illinois Theater another Syndicate operation

Harvard Illinois couple Iroquois Theater victims

Calm

Kenosha industrialist survived Iroquois to face another kind of fire