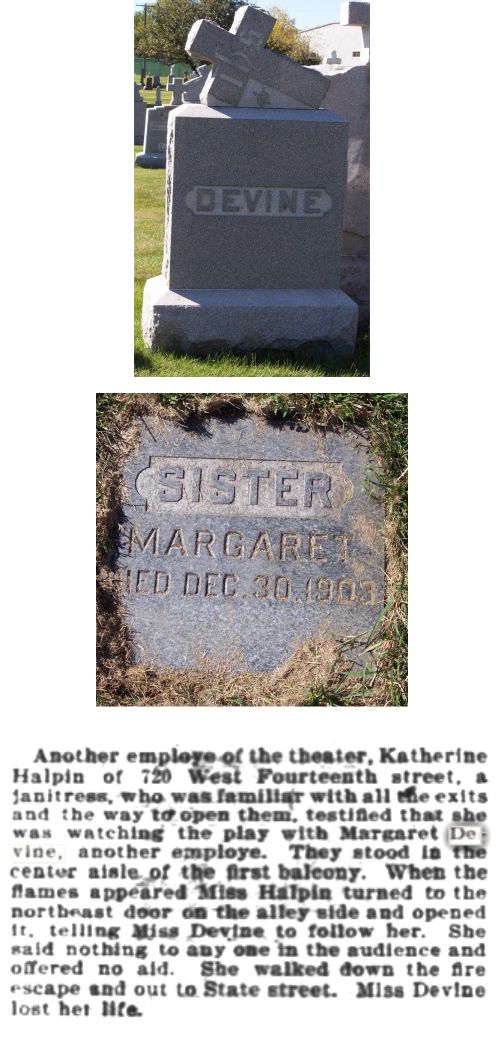 Halpin's testimony, leastwise the newspaper reporting it, conflicts with a detailed study made by architect Louis Guenzel. Entering the Iroquois the morning after the fire, Guenzel spent two weeks making lists of the configuration, size and condition of Iroquois components, including all the doors. According to Guenzel, the door Halpin supposedly exited from was never opened; the western-most fire escape exit (door #29), roughly twenty feet to the left, however, was opened. Did Halpin try the eastern door, find it stuck, turn left, walk down the stairs, exit from the western door and either didn't mention it or the newspaper didn't quote her full testimony? Did Halpin adjust her story to help her boss? Did Guenzel err in his observation or in his report?
Margaret Devine started working in maintenance at the Iroquois Theater on December 30, 1903.
When a coworker, Katherine Halpin, said they could slip into the back of the second floor balcony and take a peak at the Mr. Bluebeard pageant, Margaret followed along.
When the fire broke out, however, for some reason Margaret didn't follow Katherine. Perhaps she ran to get her coat, or some other possession she felt she could ill afford to lose and became caught in the crowd. Whatever her reasons for turning another direction or delaying, had Margaret followed Katherine, she would have escaped. Katherine had worked at the theater long enough that she knew how to operate the door latches. She went quickly to the eastern most fire escape door (door #31) and in minutes was safe on the ground in Couch Place alley.
Katherine lived at 720 W. 14th St. and twenty-two year old Margaret lived at 95 Kendall St. Margaret's body was identified by her sister, Nellie Christopher. She was buried in the family plot in Mt. Carmel cemetery in Hillside, Illinois.
Margaret was one of two Iroquois maintenance workers to die in the fire. The other was Ragna Anderson.
Coincidentally, another Iroquois Theater victim was named Margaret Devine Evans, a woman from Quincy, Illinois, who attended the theater with her sister, Clara Devine, and daughter, Mabel Evans. Sometimes Clara Devine is cited as the woman who worked at the Iroquois, but in court Katherine Halpin testified that her companion at the Iroquois was Margaret Devine.
That said, I am not satisfied with the information learned about Clara Devine so cannot say that she did not also work at the Iroquois, only that Margaret Devine definitely did so and perished. Notices I've found in Chicago and other newspapers about Clara Devine do not state that she was an Iroquois employee, only that she lived in Chicago and was the sister of Margaret Devine Evans. The Quincy Herald newspaper inaccurately reported that Mabel Devine died and may also have reported that Clara worked for the Iroquois. I read a 1950 newspaper story about the inaccurate 1904 Quincy Herald report but have not found the Quincy Herald story so as to verify all that was reported.*
* I have learned to be cautious when evaluating Iroquois stories that appeared in out of town newspapers. So hungry was the public for news about the Iroquois Theater fire that at least two papers published photos said to be the Iroquois that were of an altogether different theater. Many papers went to press with stories from victims relatives that were based on early telegrams and bits and pieces from other newspapers. While Chicago newspaper reporters had the capacity, at least, to verify their stories, some editors elsewhere instead inflated morsels into big stories. So strong was the public interest that stories were even published about people who were traveling through Chicago the day of the fire and considered going to the theater, but did not, or who saw wagons carrying the dead passing down the street.