Over
300 stories about Iroquois Theater
audience victims -
30 on each page:
Actors

and Mr. Bluebeard

Iroquois Theater
owners and
staff
Survivors, nine-year-old Marion E. Vacher (1894) and five-year-old Cora M. Vacher (b. 1898) were the daughters of Margarethe's older sister, Mary "Mamie" Annen Vacher. 1904 newspapers misspelled the girls' last name as Vocher but the family reported it as Vacher in the 1900 & 1910 census.

Margarethe's body was taken to Rolstons Mortuary where her twenty-one-year-old brother, Frank Charles Annen III (1882 – 1975), identified the remains.

The funeral was held mid afternoon Saturday, January 2, 1904 at St. Vincent church and interment was in the Annen family plot at St. Boniface Cemetery in Chicago where Margarethe's parents and several siblings were buried.

The Annen name was sometimes spelled Annon or Annan.

Thirty-one year-old milliner, Margarethe Annen, took her two young nieces to the Mr. Bluebeard matinee. The girls escaped but Margarethe did not.

Margarethe Annen (b. 1872) lived at 299 Webster with her widowed mother, Mary M. Kreuser / Kreiser Annen (1850-1923), brother Frank Annen (b. 1883) and sister, Elisabeth Annen (b. 1885). Mary had born nine children in all, of which five survived as of the 1900 census. Margarethe's father, Frank Charles Annen Jr. had passed in 1893.
Officials inspect stair gates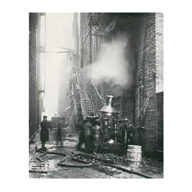 Chicago firemen in Couch Alley behind Iroquois Theater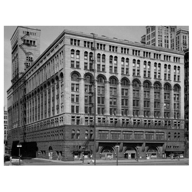 Historic Chicago Auditorium Theater
<

Father identified daughter by her fur collar

Marshall Everett disaster books

Doherty and Ericson Chicago famlies