According to a story in the Corning, NY newspaper (near Clara's hometown, Bath, NY), Daniel Martin left his sons in their seats in the balcony at the Iroquois, intending to come back for them after helping Clara escape. When he went back, it was too late. He found his sons sitting in their seats, suffocated.

Story sounds like newspaper humbuggery. Even allowing for women being more submissive in 1903, I don't see Clara Martin being shuffled out while her husband tells her sons, "Sit tight, I'll be back." Nor do I see even the most obedient of teenage boys remaining in their seats with smoke thickening, the house blanketed in darkness and people screaming. Yes, there were burned corpses found in their seats (though the quantity may have been as few as six, depending upon the testimony, with the estimate of twenty by fireman Roche the most credible). If the Martin boys were in that handful, it is unlikely Daniel Martin regained access to the auditorium and found their bodies, or that firemen recognized the bodies of the Martin boys and told him of their location and position in the theater.
Fireman were unable to pass through the doors into the balconies in the auditorium because of the body piles. They gained entrance by going up the fire escapes and throwing bodies to the alley below to clear a path. They removed bodies from the piles at the main auditorium doors so that firemen could use those doors for body removal and to bring in hoses to fight the small amount of remaining fire.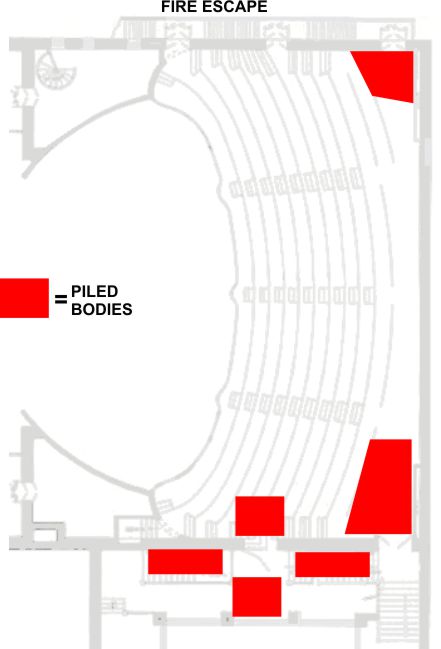 Actually, city prosecutors would have leaped for joy to have as their symbolic victim the identified remains in a specific known location, in no way involved in crowd-inflicted injury. They had to look long and hard to find Viva Jackson. For trial purposes, a pair of young brothers who played no role in their own deaths would have made even better victims.
According to other Chicago newspaper references, Daniel Martin found and identified the bodies of both his sons at Rolston's Funeral home.
The Martin boys funeral was held Jan 2, 1904 at the St. Joseph's chapel at 121st and Eggleston in Pullman.
On February 13, 1904, Daniel and Clara testified about their Iroquois Theater experience before the special grand jury.
In April, 1904 Clara Martin was one of a group working with Viva Jackson's mother to assemble statistics demonstrating that a Memorial Iroquois hospital in the Loop would have important benefits in saving lives and ______.
~~~~~~~~~~~~~~~~~
The family rented at 11 Market Circle / 112th street in Chicago in 1903. Daniel R. Martin, a Vermont native, graduated from the Williston Seminary in Massachusetts and attended Amherst and Cornell. He located in Chicago in 1876 and became the Pullman school principal in 1881. The Pullman school was located at the northeast corner of 113th and Pullman avenue.
Daniel married Clara Bell Campbell in Boston in 1888. Clara was born in Illinois but grew up in Grove Springs, New York. She graduated from the Haverling Academy in Bath, New York.
Clara and Daniel lost a daughter in infancy in 1895. According to 1910 census reports, almost a year to the day after the Iroquois Theater fire a daughter named Katherine was born. Katherine graduated from college, became a public school teacher and married reverend Alexander Wood. In 1940 Clara lived with Katherine and Alexander in Duluth, Minnesota. The household later relocated to Charlevoix, Michigan where Clara spent her final days.
By 1920 the Martins had purchased their home at 12207 Eggleston. They were prosperous enough to employ a live-in servant until at least 1920.