An Indiana native, fifty-one-year-old Frances Ann Maddox Leach (b. 1853, Indiana) was one of eight children born to Wesley Harvey Maddox and Eliza Ann Grove. She was the widow of George Woodward Leach, (1852-1873). George died around eighteen months after their wedding and she did not remarry. Their only child, a grown daughter named Estella Leach McCaslin (1873-1938),* nicknamed "Stella," survived the Iroquois fire with slight facial burns and told the story of their experience as appears in clipping above. The pair were seated in the third floor balcony.
A large group of France's siblings at the Wayne Hotel in Fort Wayne,† perhaps gathered for the holidays, set out for Chicago to help Estella locate her mother's body.
After a three-day morgue search, France's was finally found at the Cook County morgue, recorded as body #7. Her brothers, William M. Maddox and Dr. Leander E. Maddox, identified her body by a Montpelier merchant's name on her shoe lining, a lock of hair and her teeth. Her $50 in emergency fund was still tucked in her stockings. It was guessed that she died of suffocation rather than burns.
In 1900 and 1901 Frances lived with Estelle and Estella's husband, John W. McCaslin (1870-), at 5747 Drexel in Chicago. John worked as a penmanship instructor in a business college.
By 1903 Frances had moved back to Montpelier, a small town midway between Fort Wayne and Indianapolis, Indiana.
Frances was buried January 5, 1904 at Woodlawn Cemetery in Montpelier, IN.
In the years after the fire
Estella married twice more, to Benjamin Melton, with whom she had a son, and William Thornburg. In the 1920s she lived in Harrison, Indiana, on the Indiana - Kentucky border but by 1930 was living in the Montpelier area where she'd grown up. As an accomplished elocution performer Stella operated the Stella Leach McCaslin Opera Company, performing in churches and recital halls. In addition to Stella the company included a soprano singer, pianist-violinist and a whistler.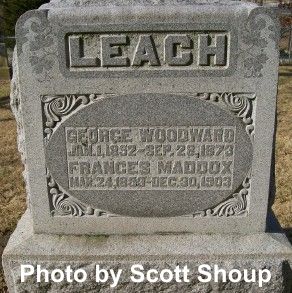 Discrepancies and addendum
* Alternate spellings: Estella, Estelle, McCaslin, McCasslin, McCasland, McCassland
† Frances's siblings: Wesley Harvey Maddox II, Joseph Collins Grove Maddox, Dr. Leander Erastus Maddox, William McKendree "Ken" Maddox, Sarah Ellen "Sadie" Maddox Shields of Montpelier, Laura Belle Maddox Markley of Keystone