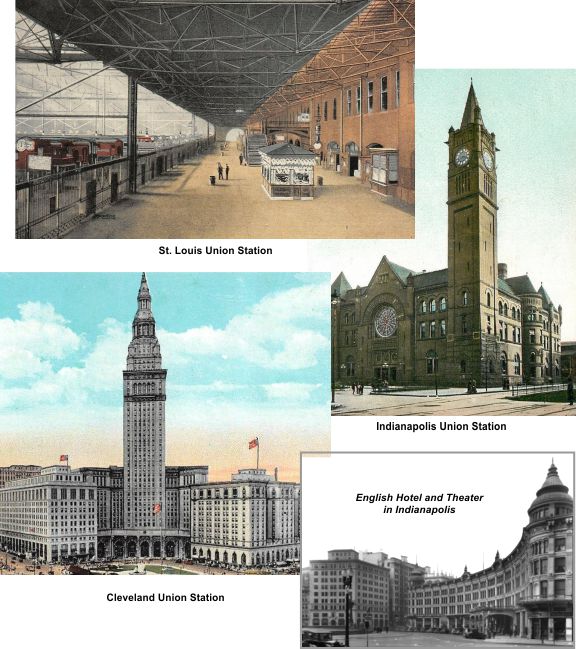 Klaw and Erlanger's Mr. Bluebeard gave its last New York performance at the Knickerbocker Theater on Broadway and 38th the night of May 16, 1903. It had opened on January 19th that year and played 135 performances.
One hundred seven days later the massive company opened in Pittsburgh. Promotion throughout the tour proclaimed it was almost the same cast that had appeared on Broadway. In actuality slightly less than half the thirty-five principals had appeared in New York. The number of people reported to be in the road company varied from 185 to 400.
The 1903 Mr. Bluebeard road company
performance schedule:
Pittsburgh, Pennsylvania ran two weeks Sep 28 to Oct 10, 1903.
Performed at the Alvin Theater, a 2,200-seat facility at 115 Sixth Avenue built in 1891. It was operated by the theater syndicate beginning in 1897. Campstools were set up to accommodate the theater crowd at Mr. Bluebeard on its first night at the Alvin.
Cleveland, Ohio ran two weeks Oct 12 to October 24, 1903.
Performed at the Euclid Avenue Opera House on Euclid and East 4th. A small stage fire in Cleveland on October 24, 1903 involving a malfunctioning stage light became important in the coroner's trial after the Iroquois fire. The theater had been rebuilt following a fire there just nine years earlier.
The cast left Cleveland on route to Indianapolis on Big Four train No. 29 with baggage and scenery on a second train, No. 11, consisting of seven cars.
Indianapolis, Indiana ran five nights Oct 26 to Oct 30, 1903.
Performed at the English Opera House.
There was a new employee at the English Theater. A month prior twenty-four year old Tommy J. Flanagan had left his job as a locomotive machinist to become a lighting man on the stage at the English. When the Mr. Bluebeard company left town for St. Louis, Tommy and his wife of two years, Lottie, joined them. Two months later he died at the Iroquois.
Opened in 1880, English's Opera House was the leading theater in Indianapolis. Seating 2,500, it offered the largest stage in the city, the only one that could accomodate Mr. Bluebeard's huge cast and extensive scenery. A year earlier it had offered Ben Hur with a chariot race that included eight live horses running on treadmills.
St. Louis, Missouri ran two weeks Nov 1 to Nov 15, 1903
Performed at the Century Theater. In a newspaper interview a manager at the theater, Sam Harrison, said it took one hundred carpenters to put the show together. It might have been a extra challenging job. By most accounts the stage at the Century was too small for the crazy large production. The St. Louis Republic newspaper reporter ended his review with, "You wouldn't care to see Mr. Bluebeard more than once, but it is worth seeing that once."
A Wabash railway train made up of four sixty-foot cars and one fifty-footer for stage carpenters, scene shifters, etc. transported scenery, costumes and property from St. Louis to Chicago, and two 1200-Series coaches on train No. 14, brought the cast, arriving in Chicago the afternoon of Sunday, Nov 15, 1903.

Chicago, Illinois ran Nov 23, 1903 to Dec 30, 1903
Performed at the Iroquois Theater
Management made the decision to close early due to lackluster ticket sales, to be replaced with Ben Hur.
At an afternoon matinee on Dec 30, 1903 over 600 people lost their lives in the worst theater fire in America's history.
Stops planned for 1904: Buffalo, NY
Story 2939