Twenty-four year old Maud A. MacDonald Nickey (1879-) survived the Iroquois Theater fire and testified about her experience at the coroner's trial. Her testimony appeared in newspapers around the country.

Maud's husband was Frank Andrew Nickey (1880-1958) who became a traveling salesman and, later, managed an Japanese gift importing company. Maud was one of six children born to Dr. John C. MacDonald (1855-) and Marie Greer MacDonald (1859-1938). Marie taught piano and ventriloquism.

---

A decade after the Iroquois Theater fire, Maud still suffered from what today might be diagnosed as PTSD. In October, 1913, she disappeared for two days and authorities were concerned that she may have met with foul play, as had two other Chicago women that September and October. Ida Leegson was a University of Chicago student lured by telephone to an employment interview, then strangled. Mildred Rexroat was shot and killed after being lured to a rural area. There was talk of dragging the lagoon in Garfield park to look for Maud (why that particular lagoon was targeted was not reported) but 48 hours later Maud telephoned her parents and they retrieved her from a fruit store.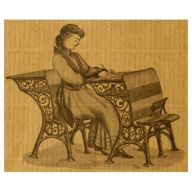 Aunt Falkenstein and Niece Rothe Iroquois victims