British Tiller girls
Popular between 1901 and 1920, the distinguishing characteristics of the synchronized Pony Ballet dancers was their youth (no older than 19), petite size (no more than 5' tall and less than 130 lbs) and frequent costume changes. Trained in England at the famed Tiller School operated by John Van Tiller,† the dancers that would become the Pony Ballet first performed in James Lederer's The Belle of New York at the Shaftesbury Avenue theater in London in 1896.* He hired them for a George Lederer (1862-1938) production in America, The Man in the Moon.
To the moon and back
A group of sixteen dancers came to the U.S. in 1899 for Moon, then returned to England. While still in New York they were spotted by a Chicago theater manager, Will J. Davis, who four years later would play an important role in their lives. In 1900 they appeared in E.E. Rice's Little Red Riding Hood. See below.
In 1901 half the group returned to America to appear in Casino Girl, another G.W. Lederer production. See photo below right of the group that appeared in Casino, each of them age sixteen to nineteen. Four in the group were said to be from London and four from Newcastle-upon-Tyne. Four were blonde and four brunette. It was during Casino that George Lederer gave them the name Pony Ballet, originally billed as the Pony Ballet Octet.
Taking a bunk
When Casino closed, the girls chafed at sitting idle for a period of weeks. Though Lederer had agree to pay them during the off period, the amount was not sufficient for them to continue sending money home to their families. So, to put it in their words, they "took a bunk" – British slang similar to the American "taking a powder." Without telling Lederer, they found a vaudeville booking in St. Louis, had costumes made and slipped off when he wasn't looking. Factoring in their decision may have been that compensation for vaudeville performers was catching up and sometimes exceeded that of dramatic stars. Two months before a California newspaper article cited as an example the $37,000 earned by Jessie Bartlett Davis as comparable with her earnings when a dramatic star with the Bostonians.
On their own
The girls elected Beatrice Liddell as their leader and assigned other roles to members (see right). In 1902 while performing in Milwaukee, one of the girls, Eugenie Makepiece, died of typhoid fever. Carrie Poltz was also stricken but survived.
Mr. Bluebeard
When rehearsals began for Mr. Bluebeard in NYC January, 1903 Eugenie's position was filled by Dorothy Marlowe (presumably a relative of Eva's though I was unable to verify that).
Their costumes for Bluebeard were designed by F. Richard Anderson and made by the Klaw & Erlanger Costume Company; wigs were produced by Clarkson of London and Hepner of New York.
Five in the Pony Ballet - the Hawman sisters, Bee and the Marlow sisters - traveled home to England for a visit between the Broadway season of Mr. Bluebeard and the start of the road company tour on Sep 1, 1903.
The Pony Ballet appeared in a pre-opening promotional performance at Powers Theater in Chicago on November 17, 1903.
At the Iroquois the afternoon of the fire, the Ponies had just completed a performance with Bonnie Magin and Harry Gilfoil in The Beer That Made Milwaukee Famous. When the fire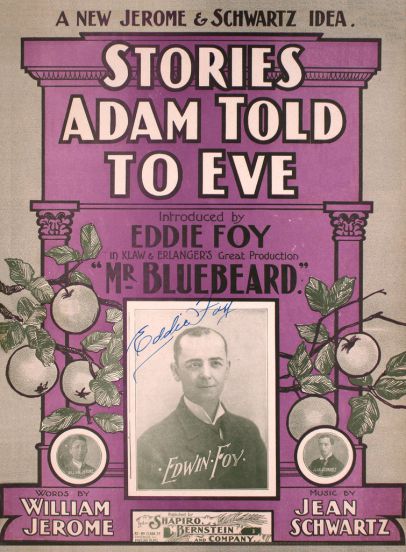 started they were in their dressing rooms preparing for their next appearance on stage, the Old Woman Who Lived in a Shoe skit followed by Mother Eve (aka "Stories Adam Told to Eve") skit in Act II, Scene 3, both with Eddie Foy. They may have been among the performers brought down in the elevator to the stage floor by operator Robert Smith or could have used the spiral stair.
Sisters Dorothy and Eva Marlowe were injured at the Iroquois but recovered sufficiently to perform a week later. The company traveled with the Mr. Bluebeard cast back to New York City after the Iroquois fire, arriving on January 5, 1904. They had a booking in NYC twelve days later, at the New Star Theater in Brooklyn and a week later were again headlining shows.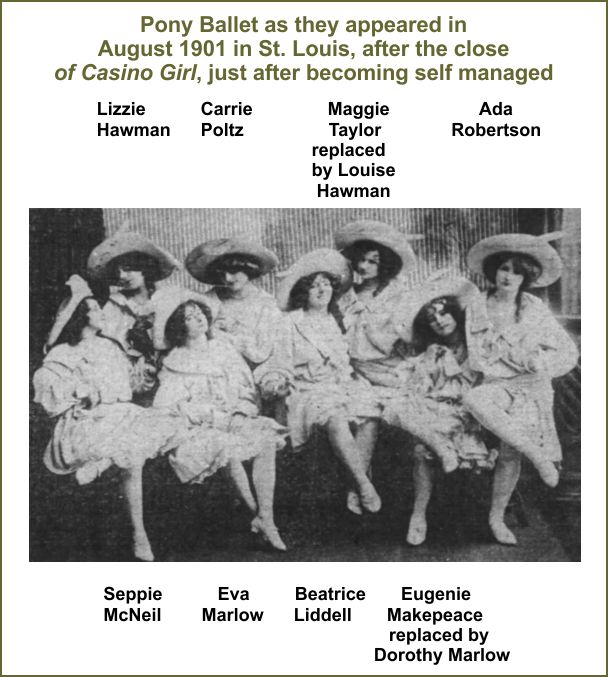 Pony Ballet dancers of Mr. Bluebeard.
What I've been able to learn of them so far:

Elizabeth "Lizzie" Lizette Hawman (Hauman/Harman) (1882-)
Nicknamed Homan, said to be the oldest. She escaped without injury from the Iroquois Theater. In 1906 Lizzie and Louise's mother, three younger siblings and an adopted sister immigrated to America from England and in 1910 were living in New York. Their parents were the late Hugh Hawman and Margaret Hawman. Their younger sister and the adopted sister also worked as dancers. One, named after their mother Margaret, eventually joined the Pony Ballet. In 1907 when a stage worker died of a stroke while working, Lizzie came to his aid during his final moments and extended comfort to his family. The stage crew honored her kindness with a gift makeup box and plaque.

Louise "Lonie" Hawman (Hauman/Harman) (1888-) purchased clothing for the group. She was Lizzie's sister. She escaped without injury from the Iroquois Theater. See information about Louise and her sister Lizzie's other family members above. In 1912 Louise was performing with Ada, Eva and Sissie in Ned Wayburn's company in Connecticut.

Beatrice Liddell (c1884-1972?), nicknamed Bee, leader of the group. Said to be the youngest but that may have been a joke. She escaped without injury from the Iroquois Theater. In Mar 1899 while appearing in Man in the Moon in New York, Bee and another cast member had filed to become American citizens.
In 1901 she won a dance endurance contest in London. In Dec 1911 Beatrice performed in Eddie Foy's three-act farce, Over the River, in the role of Phebe, singing Raggety Man among others. I suspect Beatrice was Margaret Beatrice Liddell who married Frederick Adams Russell in 1914. If so she was the daughter of Joseph and Margaret Hobson Liddell with a sister named Isabelle and lived to ninety years of age, passing in Apr, 1972. They had one child, a son named William A. Russell and Bee spent most of her married years in the New Ipswich, NH area.

Dorothy Marlowe (1885- ) suffered slight burns at the Iroquois. One of her chores in the group was to hire maids. It was reported that the group typically rented two apartments and hired a maid for each apartment. Another Dorothy Marlowe sang light opera around 1911, thought to be a different woman. In 1912 an entertainer named Dorothy Marlowe married a man named Bixler but I think it was the other Dorothy.

Evelyn "Eva" Marlowe (1879-1970) handled the group's secretarial chores. She later married Bertrum Levyn / Levin (1874-1952) in 1910. He worked then as a realtor and later in public relations, publishing and theater management An Eva Marlowe was performing in 1924 and 1930, in musical comedies on Broadway such as "the Girl He Left Behind" produced by Tommy Hanlon. Was it Eva the former Pony? Don't know. Eva and Bertrum lived in NYC until his death, then Eva moved to Danville, PA to share an apartment with former Pony mate, Ada Robertson Bryant, who had also lost her spouse. Eva relocated to Troy, NY by the time of her death.

Seppie (Septima Septine Septins Septina Seppie) "Sissie" McNeil (1885-) handled marketing for the group. She escaped without injury from the Iroquois Theater. In 1910 her niece, Mollie Dawson, lived with Sissie, Dorothy Marlowe, and Beatrice Liddell in Manhattan. Sissie continued performing in and leading a vaudeville pony-style dance group of six women called the Dancing Daisies until at least 1914, the last newspaper mention of her in November of that year.
Carolyn Hanna Louise "Carrie" Poltz (1884-1963). She escaped without injury from the Iroquois Theater. In 1910 she and her younger sister, Florence Poltz, also an actress, lived with Eva Marlowe Levyn and her husband in Manhattan. Carrie and Louise were the daughters of Heinrich Poltz and Sarah Graham Poltz.
In 1925 Carrie was part of the Charlotte's Revue road company, based in London but working in the U.S. She was in charge of selecting and training chorus girls. She used her mother's maiden name then, Graham. In 1932 she married John A. "Jack" Chapman of England.

Ada Robertson, a native of Scotland, was the group spokesman when communicating with producers and theater managers. She escaped without injury from the Iroquois Theater. She later married a man named Bryant and remained in the U.S., living in Danville, PA, as a widow, childless, sharing an apartment with her former Pony member Eva Marlowe Levyn. In 1954 she recalled her years in early film after her Pony years.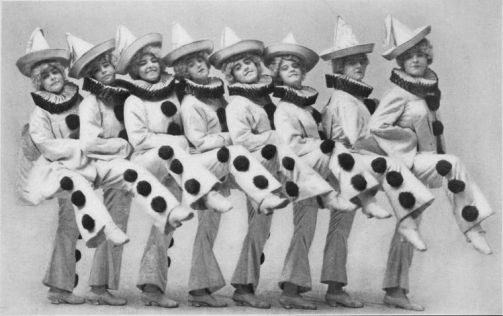 Picture above most probably shows the costumes worn during the Pony Ballet's 1904 radium dance in the last act of Piff-Paff-Pouf. They were described in newspapers as of a Pierrot type with attached ruffles and were pictured on sheet music (below) published in conjunction with the production. The light colored portions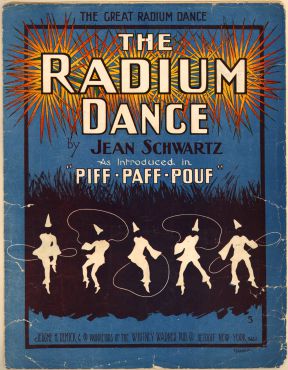 were painted. Skipping rope was a key component of the radium dance. Listen to the Jean Schwartz tune Radium Dance that accompanied the performance. It seems that the paint would have made the fabric stiff and heavy to the point of chafing the skin but the radium dance became one of the Pony Ballet's longest-running skits, picked up in productions subsequent to Piff-Paff-Pouf.
May 15, 1904 The Inter Ocean newspaper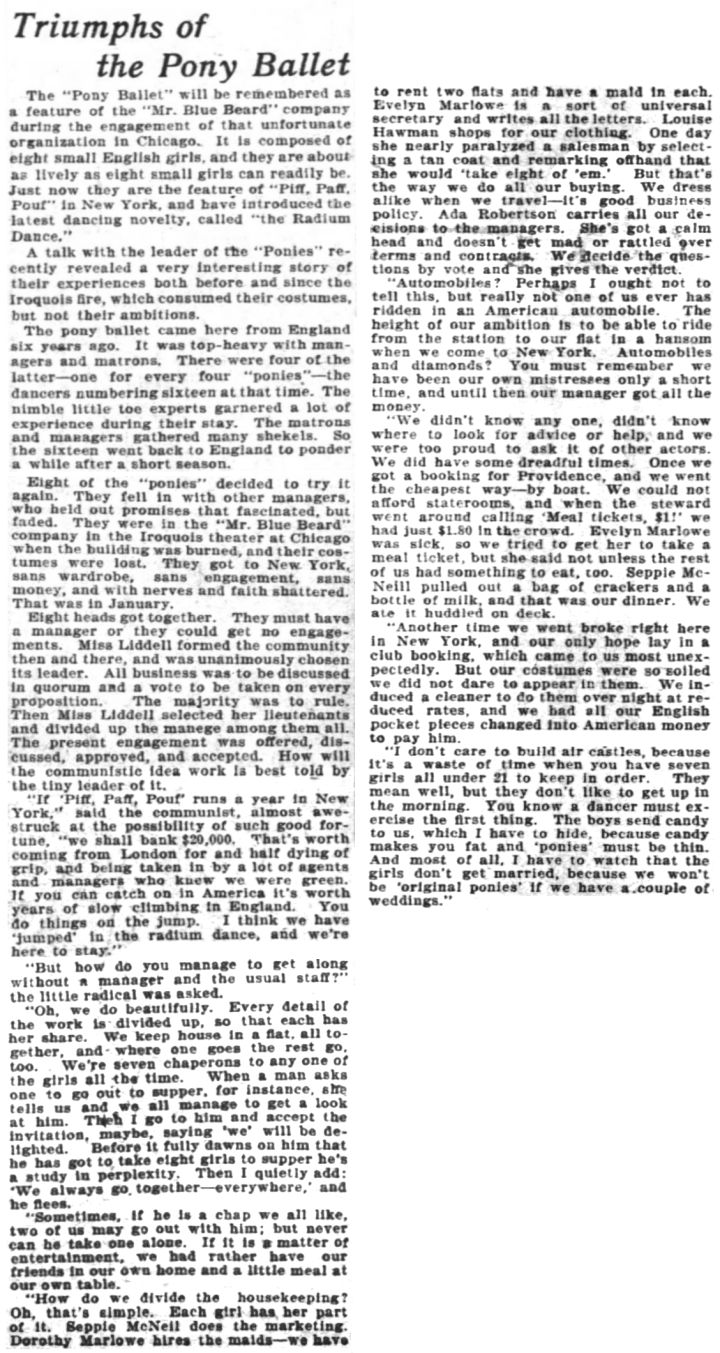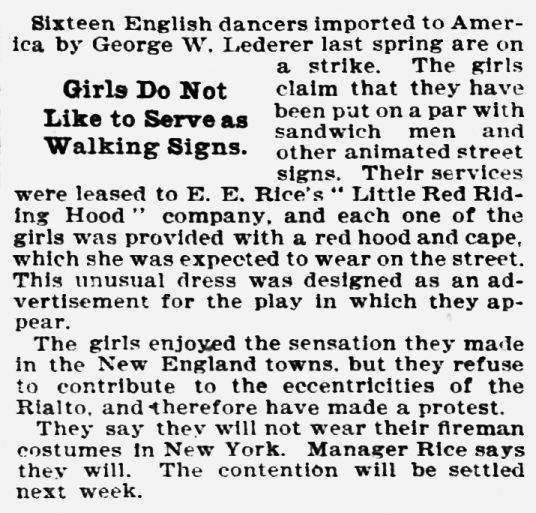 Wearing identical red hooded capes on the street was resented in1900 when it was a requirement but by 1902, wiser about promotion, the Pony Ballet girls adopted the practice as a shrewd marketing scheme.
In the years after the fire

The group became so popular in 1904 that the term "pony ballet" became a common place description for groups everywhere of young, identically clad female dancers. For a time the Pony Ballet referred to itself as the "English Pony Ballet," later changing the name to the "Original Pony Ballet" and "Original English Pony Ballet." In 1905-7 they featured in "Piff Paff Pouf," becoming best known for skipping rope, tap dancing and their "radium dance" skit. Dressed in Pierrot costumes embellished with phosphorous discs, they entered a dark stage and danced with phosphorescent ropes. (The Piff-Paff-Pouf music book.)

The summer of 1904 was spent living in a cottage on Hemmels, Long island.

A newspaper interview with Eva and Ada in their senior years shared their feelings that the success of the Pony Ballet was due to their hard work and willingness to adapt and learn new things, such as learning to play bagpipes for one show and xylophones for another.

By 1905 only six Ponies remained, Eva Marlowe and Carrie Poltz having left the group.

When they performed with the Lew Fields production Girl Behind the Counter in Chicago in 1908 at the Garrick Theater, former Iroquois Theater manager Will J. Davis came back stage to greet the girls. He recalled his first view of them when they earned $10/week.‡

Pony craze comes to an end

Later in 1908 Bee, Dorothy, Ada and Sissie went home to visit their families in England and traveled home on the Mauretania. Dorothy stayed for eight months for eight months and returned with an Bee's sister, Isobelle Liddell. There were fewer newspaper ads mentioning the group in 1910 and in the U.S. Census that year they reported they'd been out of work for 7 weeks that year.

Bee Liddell, Dorthy Marlowe, Ada Robertson, Elizabeth Hawman, Louise Hawman and Seppie continued to perform as the Pony Ballet until 1911. At least one newspaper that year the group as overplayed.

In Feb 1911 the remaining five were performing in St. Louis, but not as a group and not as the Pony Ballet. Ada, Beatrice, Lizzie and Dorothy were performing in "The Old Town" at the Olympic Theater while Eva appeared in Tillie's Nightmare at the Shubert Theater with Maggie Taylor, one of the Pony members from 1901.

Advertisements promoting the "English Pony Ballet" and "Original Pony Ballet continued to appear well into the 1920s, long after the original Pony Ballet had left the stage – with various males taking credit for the Pony Ballet phenomenon created by eight young women from England.
Discrepancies and addendum
* The term "pony ballet" appears to have been a permutation of an older term, "jockey ballet," going back to at least the mid 1800s, both terms were used to describe a group of young female dancers.
Other references put their debut at the Drury Lane Theater.
Later reports said four came from northern Northumberland and Yorkshire, one from Liverpool and one from London.
† In 1911 Beatrice Liddell described the Tiller School as having turned out hundreds of dancers, most of whom performed in ballet in European theaters. There were two Tiller School sites, one in Limehouse, Manchester, the other in Covent Garden, London. Young students from five to ten years old started at the Manchester school as borders with a matron for every four girls. Their training included academics as well as dance. Girls with potential received further training and entered a program Beatrice likened to an apprentice program for a trade.
‡ This would have been in 1901 when Davis was in New York to see a much heralded race between trotters Creseus and The Abbot. Davis raised trotters at his Willowdale farm in Crown Point, Indiana. Also at the race, possibly in company with Davis, was a E. E. Rice, producer of Little Red Riding Hood and a personal friend of Davis's.