Popular between 1900 and 1920, the distinguishing characteristics of the acrobatic Pony Ballet dancers was their youth (no older than 17), petite size (no more than 5' tall and less than 130 lbs) and frequent costume changes. T

rained in England at the Tiller School

by John Van Tiller, the Pony Ballet

first perform

ed in George Lederer's Casino Girl at the Shartesbury Avenue theater in London in 1896

.

*
By 1901 the group size was reduced from sixteen to eight and they made Chicago their home base. In 1902 while performing in Milwaukee, one of the girls died of typhoid fever. She was replaced by Dorothy Marlowe when rehearsals began for Mr. Bluebeard in NYC January, 1903.
Their costumes were designed by F. Richard Anderson and made by the Klaw & Erlanger Costume Company; wigs were produced by Clarkson of London and Hepner of New York.
In Chicago, in addition to their performances at the Iroquois Theater they performed at a special publicity performance at Powers Theater on November 17, 1903.
May 15, 1904 The Inter Ocean newspaper of
Chicago, 5.5 months after fire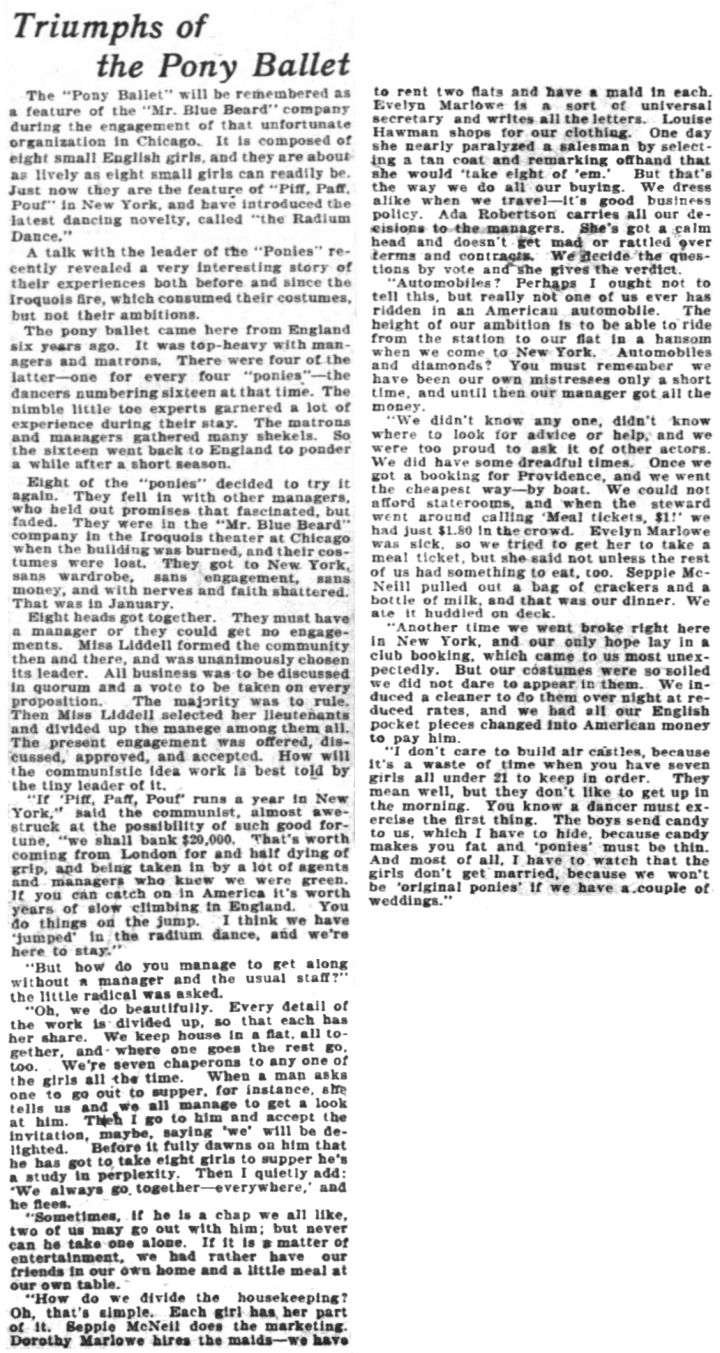 In Mr. Bluebeard the Pony Ballet dancers were:
Elizabeth "Lizzie" Lizette Hauman/Harman/Hawman

Louise "Lonie" Hauman/Harman/Hawman

Beatrice Liddell

Evelyn "Eva" Marlowe

Dorothy Marlowe

Seppie "Sissie" McNeil

Carolyn "Carrie" Poltz

Ada Robertson.
Sisters Dorothy and Eva Marlowe were injured at the Iroquois but recovered sufficiently to open four months later in Piff!, Paff!, Pouf! at the Casino Theatre in New York. The group would become so popular that imitators cropped up and the Pony Ballet became the Original Pony Ballet.
Discrepancies and addendum
* The term "pony ballet" appears to have been a permutation of an older term, "jockey ballet," going back to at least the mid 1800s, both terms used to describe a group of young female dancers.