Police, fire and volunteers removing bodies from the Iroquois theater worked out a kind of makeshift triage system. The living were taken next door to J. R. Thompsons diner where doctors administered first aid or lifesaving measures. Some were sent on to a hospital, some taken back outside and added to rows on the sidewalk of the declared dead, awaiting transport to morgues, many of which were funeral homes.
Newspapers would later tell the story of a woman at Thompsons diner who moved after having been relegated to a pile of corpses, and of a man who woke up in a wagon of bodies being transported to the morgue. History can never know the answer but it seems probable there were others who were judged as dead though they had a spark of life left, but died while laying on the sidewalk, at the morgue or in a body wagon, without being seen by a doctor. All involved did they best they could but there were eight hundred dead and injured victims, in the dark and in freezing temperatures.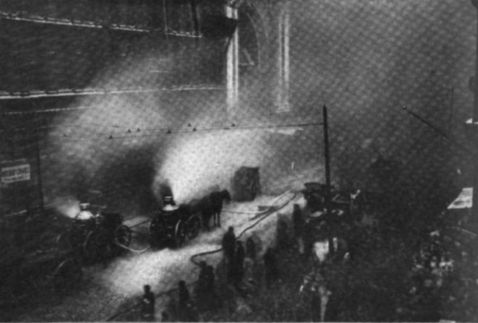 Sunset was around 4:30 pm. All the bodies were not removed until 6:30 pm.
It was -4 degrees and there was six inches of snow on the ground.