Fourteen-year-old second cousins, Dora Lucille Reynolds (b. 1889) of Chicago and Ruth Stratman, visiting from Dodgeville, Wisconsin, lost their lives at the Iroquois Theater. Ruth would have celebrated her fifteenth birthday on January 2, 1904, three days after the fire. Dodgeville is a small Wisconsin town midway between Minneapolis and Chicago.

The girls waited on the third floor fire escape landing while Dora's mother, Dora E. Thomas Reynolds (b. 1868-aft1936), crossed a plank stretched across Couch Place alley from the gallery balcony fire escape to Northwestern University. Mrs. Reynolds, reportedly the first person to try the crossing, made it to safety, but both girls died, either from flames or falling to the alley below. It is not known whether Ruth's mother, Annie Stratman, was at the theater and survived or was not present.
The Reynolds family, headed by Ohio native and civil engineer, James J. Reynolds (1865-1960), lived at 421 East Forty-fifth street in Chicago. Dora was their only child. She attended either the South Division High School or the Forestville Elementary School at 45th and St. Lawrence. A Chicago school board report immediately after the fire listed Dora as a South Division student but her name was included on a stained glass window memorial by Louis Julian Millet for Forestville School victims. The most likely answer is that Dora had been a Forestville student prior to the 1903 school year when she began high school at South Division. (Other South Division students who lost their lives at the Iroquois theater included Dora Reynolds and Irma Weiskopf.)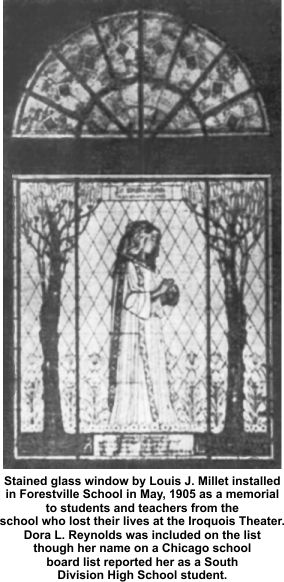 Ruth Stratman (b.1889) was the daughter of a farming family, German immigrant, Frederick "Will" Stratman (1865-1960) and Mary Ann "Annie" Johns Stratman (1867-1941). She had two siblings: a younger sister named Mildred and three year old brother named Frederick.
Ruth's mother Annie of course could not see the freight train barreling their way. In May of 1903 she was elected vice president of a literary club in Dodgeville, Wisconsin.
James Reynolds served for two years as president of the Iroquois Memorial Association. One highly partisan Chicago newspaper, the Inter Ocean, implied Reynolds wrested control of the association away from its founder, Arthur E. Hull. Reports of the officer election process, however, indicate Reynolds opposition to the association becoming involved in litigation, prosecution and politics was shared by a majority of the members. In his obituary he was also lauded for helping oversee construction of Navy pier and the 1906 layout of Gary.
Ruth and Dora were the great granddaughters of William Rogers (1815-1992) and Mary Polkinghorn Rogers (1822-1901), English immigrants who settled in Dodgeville, Wisconsin.
(I struggled to connect the dots on this one. If you're working on Rogers-Stratman-Thomas lineage, this simplified tree might help.)
There was more interaction between Dodgeville, Wisconsin and Chicago family members than I see with most families of the era. In 1900 Dora's sister and her family, Annie and Charles Davies, lived with Dora and James in Chicago. In the years after the fire the sisters traveled to Panama and Europe.
The girls bodies were found at Rolston's Funeral home. Ruth Stratman's body was identified by her uncle, William Utting (1857-1928), and Dora's by her father. William and Martha Utting lived in Chicago.
Presumably there was a joint funeral for Ruth and Dora. Ruth is buried at East Side Cemetery in Dodgeville, WI with her parents.
Notes
Two other unrelated people named Reynolds were among the Iroquois Theater victims, Barbara and Emma Reynolds.
Need picture of Ruth Stratman
Learn what happened to Forestville school's Louis J. Millet stained glass window.
Some period reports inaccurately stated that Ruth was from Dodgeville, Indiana rather than Dodgeville, Wisconsin, and that she was eighteen years old rather than fourteen.