Twenty-five year old Tressie, her forty-eight year old mother, Amelia, and sister, or sister-in-law (a twelve year old named Jessie or a fifteen year old named Kitty, I'll call Jessie until mystery has been unraveled), died at the Iroquois. They were sitting in the first row of the second floor balcony.

Amelia and Jessie had traveled from their home in the village of Tolono in east central Illinois to spend the holidays with Tressie and her husband, James Danson. On December 30, 1903 the three women went to the Mr. Bluebeard pageant.

Many hours later James and two of Amelia's sons, Richard Ebert Sands and Henry Clarence Sands, finally found the badly burned bodies.

All three were shipped to either Tolono or Olney, IL for burial. Newspaper reports were inconsistent and I have failed to find record of their burial. (Gravestone photos would be especially helpful.)

Helen Sands Amelia's daughter and sister to Tressie, resigned from her teaching position in Mahomet (near Tolono) two weeks after the fire.

---

The victims

Amelia T. Hoover Sands (b. 1854) was a dressmaker. According to the 1900 census she was married but the father of her children, attorney Henry Clay Sands, that she had married in 1875, had married another woman, Nellie, in 1892 so either the census was in error and she was divorced, or she had remarried an unknown man. Am betting on divorce. Henry's bio suggests he wasn't a man to do any one thing for a long period of time, maybe including marriage.*
In 1900 Amelia lived with five of her seven surviving children (there had been eight in all): Tressie, Jessie, Clarence, Helen and Louie. Richard had married and lived with his family. The other child was Henry Clarence but that doesn't explain Katherine. I wonder if Katherine Sands was married to one of the Sands boys -- Henry, Richard or Louis.

Jessie or Katherine "Kitty" M. Sands (b. 1891). Inquest reports referred to her as Jessie, and according to the 1900 U.S. census a girl by that name was Amelia's daughter, but some newspaper reports identified the third Iroquois victim in the family as Katherine, nicknamed "Kitty." Something is amiss.

Theresa Mae "Tressie" Danson (b. 1879), a milner until marrying English immigrant, James P. Danson (1876-1947) who identified her body. (James was born on July 4, 1876.)
By 1920 James remarried, a girl from North Dakota, and they had a son. The family lived in Great Falls, Montana where James was president of Consolidated Coal Co. In Chicago he had been associated with George G. Pope & Co. as well as Interstate Coal & Coke Co., C. M. Moderwell & Co., and Nelson Coal Co.

* Henry Sands (1848-) was an attorney and raised Hambletonian and Mambrino trotting harness racing horses at his Meadow Brook farm in Olney, IL. That much seems reliable but other things are iffy. Some period genealogy sources have made a mish-mash of the man's life with discrepancies like his retiring three years before he was born. If the dates are thrown out and just activities are included, he was also a realtor, a circus acrobat and tightrope walker for 20 years, was in the U.S. Secret Service for a few months, and the first bareback rider in America.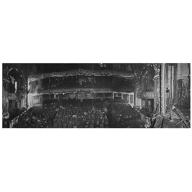 Iroquois Theater auditorium days after fire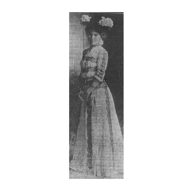 Ella Dubois made her 2nd solo trip to the theater