When he incurred fatal injuries at the Iroquois Theater, twenty year old orphan, George Grenier* Schneider, was a junior at Beloit College in Wisconsin, a coed liberal arts college. He was spending the winter recess with Reverend David Beaton, pastor of the Lincoln Park Congregational Church in Chicago.** Classes were due to restart on January 6, 1904.
Beaton lived at 437 Belden Ave.

Severely injured, George was taken to the Samaritan hospital where friends cared for him until he died two days later.

George was to have graduated from Beloit in a class of 44 students in 1905. He was one of 15-20 members in one of the school's three fraternities, the Alpha Zeta chapter of Sigma Chi. As a junior, he would have completed Psychology 3 and Ethics 2 before the Christmas break and looking ahead to 16 credit hours in Economics 3 and Ethics and Christian Evidences 2. His annual room, board and tuition: $250.
George's artwork appeared in the Beloit annual, the "Codex." The school established a lectureship in his memory. George may have been a young man searching for his proper niche.

Prior to Beloit College, he attended the English High and Manual Training school of Chicago, Rose Polytechnic (today's Rose-Hulman Institute of Technology) and the Chicago Art Institute.

George was buried alongside his parents on Monday, Jan 4, 1903 at Graceland Cemetery in Chicago. Services were conducted by Reverend Beaton and many of his Beloit classmates and faculty attended. His only surviving relative was a grandmother.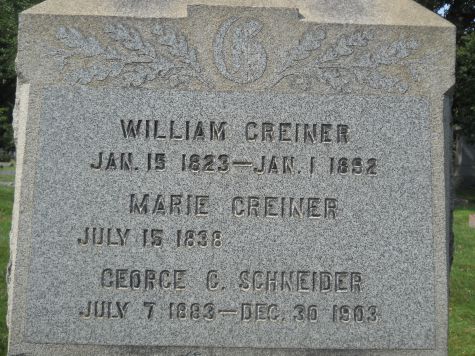 * Spelled Griner in some period newspapers.
** In 1909 the Lincoln Park Congregational and Evanston Avenue Congregational churches merged to form the Wellington Avenue Church of Christ that exists today.