Agnes Ann Brennen / Brennan (c1860-1926) was forty years old and unmarried. Based on period newspapers, she kept a low profile in her occupation and in Chicago.
As one of nine children born to John Bauman Brennen and Sophia Freeman Brennen, Agnes came to Chicago as a child from Mount Vernon, NY. Her family roots went deep in America's history. Since I found little to nothing about Agnes herself, I'll share what I learned about her rather remarkable great-grandfather and father.
Agnes's paternal ancestors could be traced to the American Revolution when her great-grandfather, Sebastian Bauman (originally Beauman) (1739-1803), played an important role militaristically and in recording details of the final battle at Yorktown in 1781.
Sebastian Bauman
Around 1755, after killing a high ranking Austrian officer in a duel, Sebastian immigrated to America. As a well-educated military engineer he was welcomed into service in George Washington's British regiment during the French and Indian War and assigned to Thomas Gage's troop. He managed to survive general Edward Braddock's failed effort to capture Fort Duquesne (Pittsburgh) and, like Washington, did not come away from the experience a supporter of Britain's continued control over the colonies.
Twenty years later, as a husband, father and American, Sebastian was assigned to colonel John Lamb's 2nd Continental Artillery in the Continental Army. After distinguishing himself at the battles of Long Island and Trenton, and at Valley Forge, he was in 1779 sent to take charge of artillery at West Point. The fort was then commanded by Benedict Arnold who was secretly maneuvering to help the British take West Point. One of Bauman's diagrams relative to fortifying the fort was among documents Benedict Arnold gave to his co-conspirator, British spy, John Andre. When Andre was captured it was among the documents found in his sock that helped convict Arnold of treason. When Arnold deserted and went to fight for Great Britain, Bauman remained at West Point for a time as its unofficial commander. As troops gathered in Yorktown In September and October of 1781, Sebastian came south down the Hudson from West Point to become one of three artillery captains on rotation during the siege.
Surveying the battle scene
Soon after the British surrender, Bauman surveyed and drew a detailed map of the Yorktown battlefield, presenting it to George Washington who directed him to have it engraved and published. It became an important tool for scholars and historians.†
Post Master
Immediately after the war Bauman returned to West Point where he was promoted in 1785 to lieutenant colonel. The following year he was appointed as first the first federal Deputy Postmaster of New York. He operated the post office from his home and grocery store at 62 Broadway in New York. It opened at 7:00 am and closed at 5:00 pm. As was the custom at the time, his postal clerks lived with the Bauman family and on New Years day Sebastian presented them with a new suit of clothing. Bauman was also in charge of a two-hour fireworks display at George Washington's inauguration in 1789.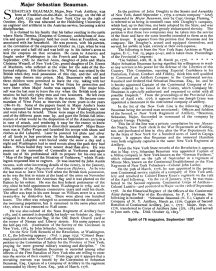 Enlarge to read Sebastian Beauman's story as celebrated a century after the American Revolution
John Bauman Brennan and sons followed family tradition
Agnes's father was a noted abolitionist in New York where he helped organize the Republican party in Westchester County and co-founded Mount Vernon, NY north of the Bronx. He was one of eight men who signed the petition for Mount Vernon's incorporation in 1853 when there were fewer than 1,400 residents. He served as a trustee the first year after incorporation and was in 1859 appointed village president. I did not a reason for the Brennan family's departure from Mount Vernon but in terms of historical artifacts, their new home, Chicago, was the benefactor.‡
Four of Agnes's brothers fought in the Union Army, during the Civil War, two of which lost their lives in the conflict. Most of the family moved west to Chicago in 1865. At least two of Agnes's siblings also became educators. George A. Brennan, was a school principal in Chicago, as was a sister, Rye Brennan Leonard.
Discrepancies and addendum
* Newspapers in 1903/4 reported Agnes's address as 2547 Indiana Ave and in 1896 she did live at 2548 Indiana Ave but by 1903, Chicago city directories listed her as boarding at 2710 Calumet.
† The copper engraving for the map was done by R. Scott. One auctioned in 1905 went for $175 ($21,000 in 2019 money.)
‡ George A. Brennan authored a book, De Linctot, Guardian of the Frontier published by the Illinois State Historical Society in 1917 in which he reported that the British offered bounty on his great-grandfather Bauman's head and scalp during the Revolution, because British generals deemed Sebastian's military benefit to the Continental Army as essential, thus dangerous. George reportedly placed a collection of fifty documents and relics comprising thirty-two square feet of space with the Chicago Historical Library. In CHL's online catalog I found reference only to manuscripts and receipts from Sebastian's time at West Point, seemingly a smaller collection than George described, and no mention of an Iroquois chieftain's club. (Reportedly one of the Brennan family heirlooms housed at CHL was a club from the Indian War presented to his great-grandfather by a chief of the Six Nations of the Iroquois Confederacy.) In the interesting-coincidences department, Iroquois Theater co-owner/manager Will J. Davis was fascinated by native Americans, particularly the Iroquois Confederacy, thus the name and decorative theme at the ill-fated theater. Davis also donated artifacts to the Chicago historical society. It was reported by long-ago family members that Sebastian was a good friend of Alexander Hamilton and a founder of the Society of the Cincinnati. I did not attempt to verify either claim.