Helen McCaughan (b.1886)
Seventeen year old
Helen lived at the corner of 65th St. and 7052 Yale Avenue in Chicago. Her body was first found at Thompsons Restaurant by a family friend, Trumbull White. He attached a card to the body and went to telephone her father, George E. McCaughan (1855-1937). Upon his return to the restaurant, however, the body had been taken to an unknown funeral home. They searched throughout the night without success. Helen was found the next day at Ryan's funeral home. Helen's father was the attorney for the Rock Island and Pacific Railway. Her mother was Mary Emma McKnight McCaughan (1859-1915). She had one older brother, Philip McCaughan (1882-1952).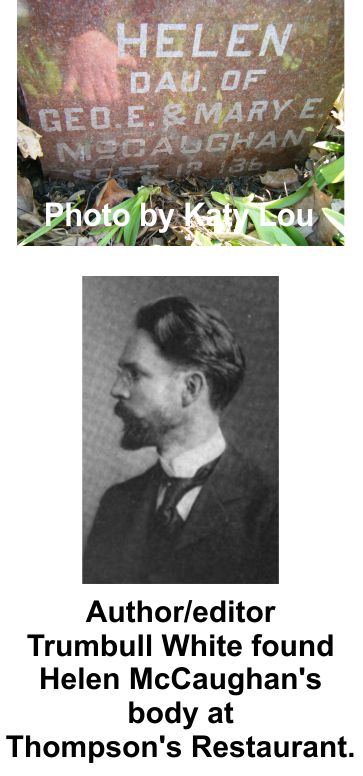 George Trumbull (1869) authored nearly 2 dozen history and disaster books and in 1903 was editor of Redbook magazine.
Helen was buried in Iowa at the Woodland Cemetery following a funeral at the First United Presbyterian Church in Des Moines on January 3, 1904. Her parents and brother are also interred at Woodland.
Note: as of 4/3/2016 Find-a-Grave reports Helen's birth year as 1881. This is a transcription error resulting from the last number on the marker being hidden by shadows and a leaf.
Elvira Olsen (b.1885) and Augusta Olson (b.1874)
Elvira (pictured) had turned eighteen a month before the Iroquois Theater fire. The Olson family lived at 7010 Stewart. A twenty-nine year old relative, a nurse named Augusta, reportedly lived at 218 79th St. but there was no such address in Chicago in 1900 so the house number or street number may have been inaccurate. To further complicate, according to city directories from 1900 to 1905 the only unmarried Augusta Olson in Chicago in 1903 lived at 3712 Dearborn. Perhaps Augusta was the woman's middle name.

Elvira was the daughter of William A. Olson (1858-1926) and Mathilda Olson (1859-1932), and sister of Henry A. Olson (1884-1912) and Edward W. Olson (1883-1935). William and the children were born in Illinois, Matilda in Sweden. They married in 1881. In 1903 William was a salesman for a printing/publishing firm in Chicago, Pettibone & Sawtell. The Olson's owned their home then but by 1910 lived in rented rooms.
Augusta's body was found at Jordan's funeral home and identified by Alfred Olson and Elvira's by her brother Edward. Elvira was buried in Graceland Cemetery with her brother and parents.
Augusta's body was also buried at Graceland Cemetery but her gravesite has not yet been verified.
In the 1900 US Census Elvira's family name is misspelled as Oleson. It is stated that they had only three children and that all three survived then. That would be Elvira, Edward and Henry. By the 1930s Matilda and Edward had moved to Allegan, Michigan where Edward became a fruit grower. Both Henry and Edward married girls named Bessie.
Note to Olson genealogists: my sympathies! Every third person in 1900 Chicago was named Olson.
Florence Oxnam (b.1887)
Seventeen year old Florence lived at 435 Englewood Avenue in Chicago. Her body was found at Sheldon's Funeral home and identified by Arthur J. Lee. Lee's relationship to victim is not known.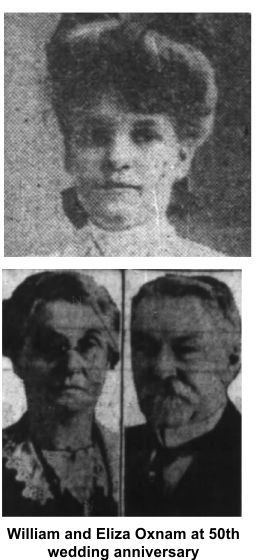 Florence was one of seven children born to William B. Oxnam (1847-1926) and Eliza Tink Oxnam (1850-1928). William and Eliza immigrated to America with their parents in the 1860s and settled in Mineral Point, Wisconsin where they met and married. In the years immediately after the fire William and Eliza remained in Chicago and purchased their home on Englewood. William worked as a carpenter contractor. The Chicago Oxnams retained a close relationship with Mineral Point, WI Oxnams. The Chicago branch kept newspapers apprised of its vacations, weddings and social activities.
Rosamond Schmidt (b.1885)
Eighteen year old Rosamond lived at 335 W. 61st St. in Chicago. Her body was identified by her father, Henry Gerhard Schmidt (1851-1935). Henry and his brother William were the founders of a construction company that specialized in cement and paving. Rosamond was one of six children born to Ohio natives, Henry and Rosina Boesel Schmidt (1852-1931), of which five survived in 1903. Henry and Rosina's parents were born in Germany. Rosina's father was an Ohio state senator.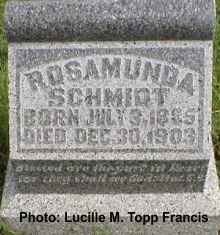 Rosalind was buried in the German Protestant Cemetery in New Bremen, Ohio. Her parents and siblings are interred there as well.
Helen May Howard (b.1887)
Seventeen year old Helen lived at 6565 Yale Avenue in Chicago. Her body was identified by Fred R. Mitchell. Helen was the daughter of Ohio native, Carrie B. Vance Howard Flaacke(1863-), and the late Samuel S. Howard. Carrie had married Theodore Flaacke six months before the Iroquois fire. Theodore sold advertising space in magazines.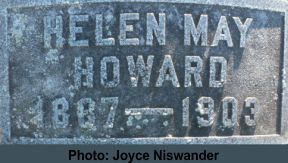 Helen had one sibling, a sister named Mame (who named one of her daughter after Helen). Helen was buried in Maple Grove Cemetery in Findlay, Ohio. Her mother and sister moved to Manhattan soon after the fire and later to New Haven, Connecticut.
Josephine Spencer (b.1887)
Sixteen year old Josephine lived at 7110 Princeton Avenue in Chicago. She survived for five days at the West Side Hospital, attended by Drs. Lovell and Davis and her parents, George G. Spencer (1857-1928) and Anna M. Cleveland Spencer (1857-aft1940). Josephine had three siblings, two brothers and a sister. She was buried at Mount Hope Cemetery where her brother, George C. Spencer was also interred in 1923. I've not yet found a photo of her grave marker.
Located at 1844 W. Harrison, the West Side Hospital was a 125-bed facility founded in 1886, its mission to train nurses.
Josephine's father was a native of Michigan, her mother of New York but both lived in Detroit when they married in 1883. In 1903 George owned the Illinois Handlebar Company, manufacturing handlebars and other bicycle parts, including seat stems, tubing and pedal components. In the 1890s he had worked as the Chicago-area sales representative for manufacturers of galvanized sheeting and nails.
Lillian "Lilly" M. Power (b.1887)
Seventeen year old Lilly lived at 442 W. 69th St. in Chicago. Her body was found at Jordan's funeral home and identified by C. F. Atkinson. Atkinson may have been an employee of the funeral home and a neighbor. He lived two blocks from the Power family on 69th St.
Lilly was buried in Sandoval, IL, her mother's home town. She was an only child and her grave marker at the Sandoval Cemetery is shared with her parents, James K. Power and Minnie Sherman Power. The marker carries the incorrect birth year of 1897 instead of 1887. (Had Lilly been born in 1897 she would have been six years old when a junior at Englewood High School and not at all the teenager pictured in 1903-4 newspaper reports.) The grave marker may have been created after Minnie's death in 1937 by relatives too far removed from the early 1900s to spot the error.
Born into a large Kentucky family, Lilly's father was raised in Missouri. In 1900 he worked for the Bowman Dairy Company as a milkman and in 1910 as a night watchman. Income for Lilly's family was substantially less than that of her fellow high school sorority members. Minnie Power was born in West Virginia and moved to Sandoval, Illinois with her mother and three siblings after the 1863 death of her father. She returned to Sandoval after James's death in 1911 and in 1930 worked as a sales clerk in a dry goods store.