The tragedy of the Iroquois fire sometimes reverberated for many years with tragic consequences for survivors. Such was the case of the Taylor, Fort and Swartz theater party.

The Taylor family lived at 1222 Morse Ave in Rogers Park. On Dec 30 1903 James Taylor and his young wife, Emma, took their daughter, Rene, to the matinee. Also in the party was Rene's friend, Frances Irene Swartz, and Frances's older sister, Marjorie/Marguerite Swartz. The Swartz girl's aunt, Phoebe Irene Fort, brought the party to six,* all of whom perished -- but the story doesn't end until 1916 at which time one more is added to the number of Iroquois deaths in the Swartz family.

The 1903 victims

Emma R. Taylor

was thirty-one years old (b. 1872, Chicago). She was James Taylor's second wife, mother of Rene Mary Taylor and stepmother to three children from her husband's first marriage. Emma's remains were identified by her daughter in law, (Estella E. Sheetz Taylor. Estella, her husband, Albert Taylor, and their son, Kenneth Taylor, lived at 1222 Morse Avenue with James Taylor's family.)

At age sixty, James Martin Taylor

(b. 1844, Clarksburg, PA) was twice the age of his second wife, married in 1868. His body was identified by one of his sons by his first marriage, Albert A. Taylor (b. 1869). Another son, Ralph Taylor, was in the navy at the time of the fire and could not be reached for some time to learn that his father, stepmother and stepsister died at the Iroquois.

Rene Mary Taylor (b. 1892, Chicago) was twelve years old . She was only child of James M. Taylor and his second wife, Emma R. Taylor. She attended the Field elementary school. One of her classmates at the Field school was also an Iroquois victim. Thirteen year old John V. Clayton also lived on Morse Avenue.

Frances "Irene" Swartz

(b. 1891, Chicago), age twelve, was a friend of Rene Taylor. She was the daughter of Dr. Thomas and Mary Swartz, and younger sister of Marjorie Swartz.

Marjorie / Marguerite Swartz (b. 1883, Indiana) was Irene Swartz's older sister. She was the daughter of Dr. Thomas and Mary Swartz and a student at the Washington Young Ladies Seminary in Washington, DC, home for the Christmas holiday. She was also a graduate of the American Conservatory of Music.

Phoebe Irene Fort (b.1858), 1881 graduate of Cornell, had been the principal of the Myra Bradwell School in Windsor Park since its founding. She was the aunt of the two Swartz girls, Marjorie and Frances.

A triple funeral was held for Frances, Marjorie and Phoebe at the Sixth Presbyterian Church on Thirty-Sixth and Vincennes Avenue.

Mary Swartz lost too much

The Swartz girls' parents did not attend the matinee but thirteen years later their mother, having lost both her children (Frances and Marjorie/Maruerite) and her sister (Phoebe) at the Iroquois, and after her husband's death earlier in 1916, drowned herself in the Potomac River in Washington. She was Mary Fort Swartz (1861-1916) and her husband was Dr. Thomas Benton Swartz (1856-1916).

They had married in 1883 and in 1903 lived at 143 35th street in Chicago. Thomas was born in Pennsylvania, Mary in Michigan. She was the daughter of Daniel Fort and Clemma Hoag, with eight siblings, including Phoebe.

In some reports Mary's last name is said to have been Ford but the 1900 census and genealogical records show her as a Fort. In one report her husband's name is said to have been F.B. Swartz but, again, the census and newspaper reports at the time of the fire said he was Dr. Thomas B. Swartz.

Another Iroquois party included a sixteen year old girl named Flora L. Taylor but I've not been successful in learning if she was related to James Taylor.

Need:
Pictures of Francis Swartz, Mary & Thomas Swartz.
Confirmation that Ream Taylor was Irene Taylor.

* There may have been eight in the party. In one newspaper report this group included school teacher Carrie Sayre, who was also said to have attended the theater with Alma Gustavson.

William Sallers Iroquois Theater fireman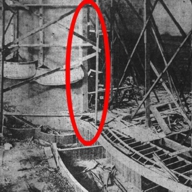 Chicago Cleveland Theater ordinance problems

Coffin supply in Iroquois Theater disaster
Iroquois Theater families faced tombstone decisions