Seventeen-year-old
Ruth
Moulton

Robbins

(b. 1886)
was the daughter of Charles

H.

and

the late Nellie

Robbins

, and the granddaughter of Ellen and Hiram Moulton, a one-time mayor of Madison, Wisconsin

.

The family lived in Chicago in 1900 but after Nellie's death from tuberculosis in 1902 Charles and Ruth had moved to Madison. Charles continued to work as an auditor for the Swift meat packing company.
In 1903, Ruth, and maybe her father as well, was visiting in Chicago for the Christmas holiday, staying with the Herbert and Mary Hemmingway family at 5936 Parnell Avenue in Chicago. Herbert and his two sons worked at the Swift packing company with Ruth's father and had a daughter a few years older than Ruth.
Charles and an unnamed friend, possibly Herbert Hemmingway, spent a day looking for Ruth's body, finally finding her at the Cook County morgue. She was identified by a locket that had belonged to her mother containing a photo of her father and by her shoes, purchased from a Madison shoe store. The hair on the back of her head had been burned away. A gruesome and untrue story appeared in a Wisconsin newspaper about Charles having waded through knee-deep blood while searching for his daughter's body. Blood wasn't knee deep in the Iroquois auditorium and certainly not in the morgue. In walking past rows of damaged corpses in morgues his pant legs could easily have brushed bodies and become soiled, but there was no wading.
A funeral was held at the family's home on Sunday, January 3, 1904 and Ruth was entombed in a vault and in the spring buried in the Moulton family plot in Forest Hill Cemetery in Madison, Wisconsin. Eva Hire's grandmother sent flowers for Ruth's funeral in Madison.
In Madison Charles and Ruth lived with her grandmother, Ellen Moulton, at 924 Jennifer St. Known for her outgoing and generous personality, Ellen lost her husband Hiram in 1899, and her only daughter, Nellie, two years later so was probably pleased to open her home to her granddaughter and son in law.
Fifteen-year-old Eva C. Hire (b. 1888) was the daughter of the late David and Mary Cool Hire. Prior to becoming ill her father had worked for Swift Co., first as a clerk, then as a traveling salesman. In April, 1903, as his pulmonary problems worsened, he and Mary went to live in Hooper, Colorado. He died there two months later. While her parents were in Colorado, Eva remained in Chicago, living with her aunt and uncle, photographer Charles and Grace Cool Mayo at 613 W. 62nd St. Eva attended the Lewis-Champlin school. Other students from Lewis-Champlin who became Iroquois Theater victims included Lucile Oakey, and the Rimes boys, Myron and Martin.
Eva's body was identified by her uncle, noted Chicago architect Ernest A. Mayo (Charles' brother). Mayo specialized in luxury homes for Chicago's wealthy, outputting over one design a year from 1900 to 1920.
Eva was buried alongside her father in Cordova Cemetery in Rock Island, Illinois, followed by Mary in 1942.
In the years after the fire
Mary Hire remarried in 1906, to Edward Altenbern, and they spent the rest of their lives in Elgin and Rock Creek, Illinois.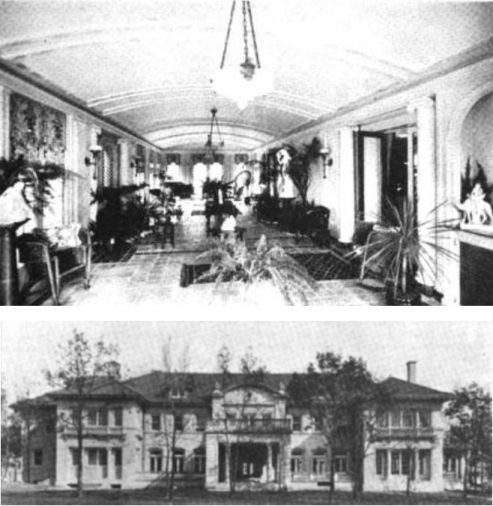 Ernest A. Mayo designed homes for Chicago's wealthy