Two parties of teenagers from well-to-do families on the West side of Chicago, nine in all, went to the Iroquois Theater on December 30,1903 to enjoy a matinee performance of Klaw & Erlanger's Mr. Bluebeard production. All survived but one.
Seventeen-year-old Harry B. Sutton (b.1886) was the oldest of two sons left to Thomas (1847-1925) and Maria West Sutton (1861-1943), who had lost two other children as toddlers in 1887 and 1892. Married in 1884, both were emigrants, Thomas in 1868 from England and Maria in 1883 from Nova Scotia. Financially comfortable if not yet prosperous, Thomas was an officer in Chicago Portland Cement* and the family owned their large two-year old home at 1595 W. Adams in Chicago (in 1908 becoming 3432 W. Adams), near the intersection with Ashland and the Church of the Epiphany.
Harry's body was found at Rolsten's Funeral Home where it was identified by P. A. Mallen. His funeral was held on Saturday after the fire and interment was at Rose Hill Cemetery in Chicago.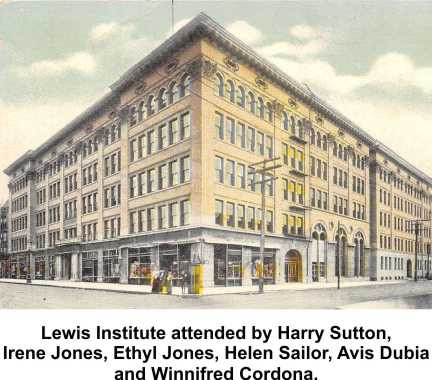 Like most of the others in his theater party, Harry was a student at the Lewis Institute.† He was probably tall and thin with dark hair, like his younger brother, Frank Sutton (1894-1966). Frank would graduate from the University of Illinois in 1916 and work for Lehigh Portland Cement in the credit department. During World War I he served in Navy.
Fourteen-year-old Grace M. Callan (1890-1958) was oldest of two children born to New York natives, Frank D. Callan (1861-1906) and Estella May Folts Callan (1865-1967). A nephew of Frank's was also raised with Grace. The family lived at 1626 W. Jackson Blvd. in Chicago. Frank Callan was a realtor at Callan & Varty on Jackson and St. Louis Ave. After his death in 1906 Estella and the children moved to Frankfort, NY. Grace attended college for two years and in 1917 married William Bond. They had two daughters and settled in Schenectady, NY.

Thirteen-year-old Avis Dubia (1892-1972) lived in a large home at 1649 W. Adams St. (3524 today) with her parents, Harry and Kitty Dubia, four younger siblings and a domestic servant. Harry Dubia was president of the Industrial Savings Bank. Avis also attended the Lewis Institute. After two years of college, in 1921 she married Earl Gowing, had two children and settled in Louisville, KY. Harry's bank failed in 1916. He became professional trustee and in 1941 was indicted for embezzling trustees funds.

Fifteen-year-old-year-old Irene Jones (1888-) was at first thought to be missing but was then located and credited with having led her younger sister and three friends from the theater.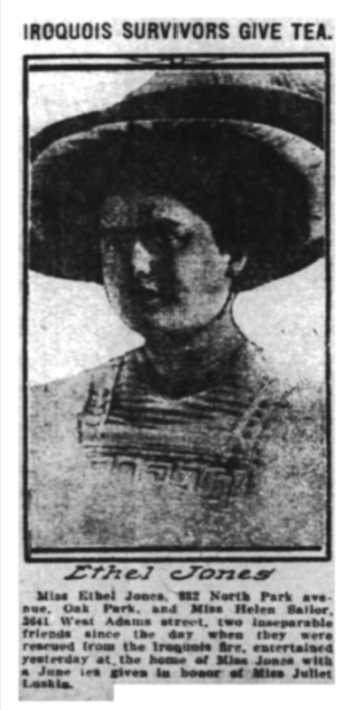 She and her sister, thirteen-year-old Ethyl G. Jones (1889-), were two of seven children born to Ohio natives, Stephen B. Jones ( 1856-1924) and Mary Ann Evans Jones (1859-1939). Owner of a coal dealership, Stephen Jones was prosperous enough to employ a full time domestic servant and own a home on W. Adams, a few blocks from Harry Sutton's. Irene and Ethyl attended Lewis Institute High School with the Sutton boys and Helen Sailor.

Thirteen-year-old Helen Sailor (1890-1946) was one of four children born to Samuel Sailor (1855-1924) and Sarah "Sally" Jones Sailor. Samuel Sailor was vice president of Heywood-Wakefield Co in Chicago during the years when it was focused on rattan furniture. Helen would grow up and marry Robert Caskey. Helen was probably a cousin of Irene and Esther Jones. Their father, Stephen Jones, had a sister named Sarah Jones and Helen's father, Samuel Sailor, married a woman named Sarah Jones. There are conflicting genealogy collections, however, so must qualify this assumption as mushy. The Sailor family lived at 1645 W. Adams. Like Harry Sutton and the Jones girls, Helen attended Lewis Institute.
The following three teens, described as friends of the Jones/Sutton/Dubia/Callon/Sailor group, were seated in the 7th row of the parquet on the ground floor. They did not rise to leave the auditorium until Eddie Foy appeared on the stage.

Winnifred Cardona (1892-) was the only daughter of Raymond and Julia Cardona. Though reported as having been fourteen years old at the time of the fire, according to US Census reports she was eleven years old. She may have been adopted some time 1900-1903 because the 1900 Census reported Raymond and Julia had no children.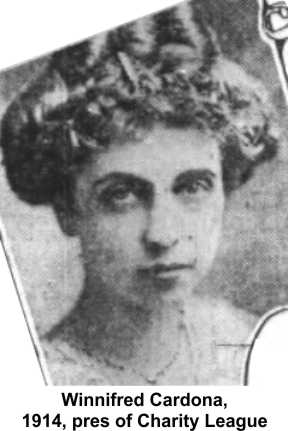 Raymond was partner in a commercial bank, Kemper, Cardona & Co. They owned their home at 1335 W. Jackson Blvd and employed a full-time domestic servant. Initially Winnifred was thought to be among the missing. She had been knocked to the floor but was helped up and escaped. She would go on to attend Lewis Institute and in 1915 married steel broker William E Seifried. The pair had two daughters.

Eighteen-year-old Mary Eileen Kiley was first listed as among the missing but then found to have survived. She is thought to have been the daughter of Margaret Sarah McCarrin Kiley and stepfather John Kiley. John Kiley was secretary of the Royal Arcanum fraternal organization. In 1903 the family lived at 4107 Perry in Rogers Park. John and Margaret married when Eileen was ten years old, in 1897. John's position in the Royal Arcanum was sufficiently public that when the marriage became troubled twelve months after the Iroquois Theater fire, it made the newspapers that Margaret had filed for divorce and the pair had reconciled.

Sixteen-year-old Ethel M. Walsh (1887-) and her five siblings were the children of widow Margaret Walsh (1864-1943) and the late Timothy Walsh. The family lived at 1647 W. Adams. Ethel married John Smith in 1914 and they had at least two children.