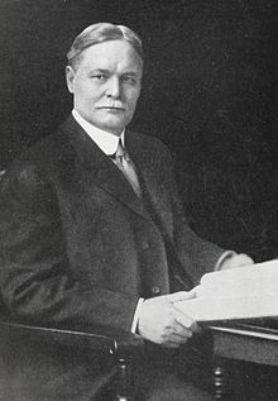 William J. Calhoun
(1847-1916) joined the defense in February, 1907 and briefly addressed the court on March 7, 1907.
In 1897 information provided by Calhoun to president McKinley contributed to the president's decision to enter the Spanish-American war. In later years president Taft appointed Calhoun ambassador to China.
Thomas S. Hogan
(1859-1941)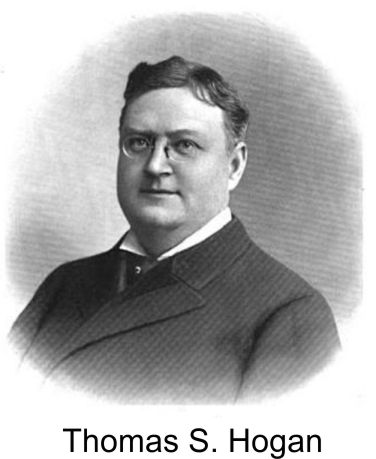 represented five Mr. Bluebeard stage workers who were arraigned with a group of twenty during the first few days after the fire. Hogan persuaded the court to reduce their bail from $5,000 to $4,000. They were scheduled to testify on January 11, 1904.
Hogan's legal career began in St. Louis. He relocated to Chicago in 1886, joining his father and brother in the Hogan & Hogan firm. He was the son of Michael and Delia Walsh Hogan.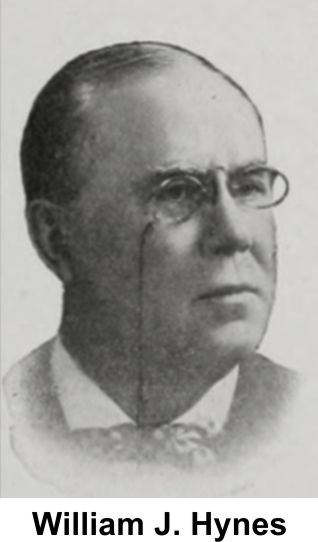 William J. Hynes
(1843-1915) represented Iroquois owners, Will J. Davis and Harry Powers during the coroner's inquest.
Hynes emigrated from Ireland with his parents in 1851. He married Jennie Way in 1871. They did not have children. He came to Chicago in 1875 after a career in Arkansas combining journalism, publishing, politics and law.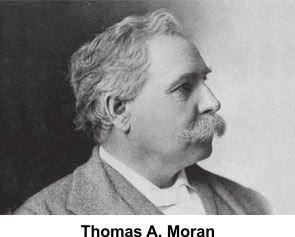 Thomas A. Moran Jr.
(1873-1922) was one in a herd of defense attorneys on hand in September, 1904 at the venue change petition before judge Kersten. He helped dispute prosecutor Barnes' contention that a venue change was not needed, declaring,

"No man with the brains of a chicken will dispute the statement that this community is prejudiced against these defendants."

Moran was in practice with Levy Mayer. He was the son of a judge and was an influential law educator.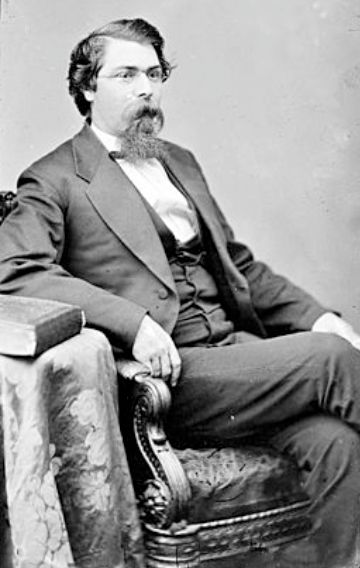 LeGrande Winfield Perce
(1836-1911) joined William Hynes in representing Iroquois manager Will J. Davis in the coroner's trial and in counseling (coaching, said deputy coroner Buckley) Iroquois Theater employees prior to their testimony. After serving in the American Civil War Perce had settled in Natchez, Mississippi prior to relocating to Chicago. Iroquois Theater manager Will J. Davis lived in Natchez during some of those same years, working for the US Revenue Service. Though their time in Natchez did not coincide, the bond of that common experience surely contributed to their Davis' comfort level with Perce's counsel.
Moritz Rosenthal
(1866-1934) participated in September, 1904 venue change petition before judge Kersten, arguing against state prosecutor Barnes contention that the collection of 150 prejudice affidavits required more advance notice and scrutiny. Rosenthal would in a few years become famous for his defense of Standard Oil of New Jersey in a Sherman anti-trust suit, saving them from a $29 million fine. In later years he represented other well known corporations, including Hart, Schaffner & Marx and numerous railroads. Rosenthal was the son of Sampson and Mina Cahn Rosenthal. In 1897 he married Virginia Moses.
Howard O. Sprogle
(1855-1917) was an
assistant state attorney in Chicago for seven years, assigned to grand jury work at an annual salary of $3,300. He resigned in November, 1903 to go into private practice. Sprogle represented Iroquois fireman Sallers in early 1904 trial activity and participated in the September, 1904 venue change petition before judge Kersten. Sprogle retired from the practice of law several times in his life but was called back to serve three times.
Edgar Bronson Tolman (1859-1947)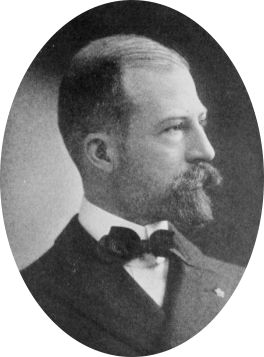 A native of British India, Tolman located in Chicago in 1868, graduating from the University of Chicago and passing the bar in 1882. Distinguished himself in the Spanish-American war at the campaign of Santiago. Appointed attorney to Chicago in 1901. He provided legal counsel to the city council in Jan, 1904 when the city's fire ordinances were rewritten.

Alfred S. Trude
(1846-1933)
In connection with the Iroquois Theater trials Trude was on the side of the defense, with Clarence Darrow, but in the case for which he is best remembered, that of the murder of Chicago mayor Carter Harrison Sr in 1893, Trude represented the Harrison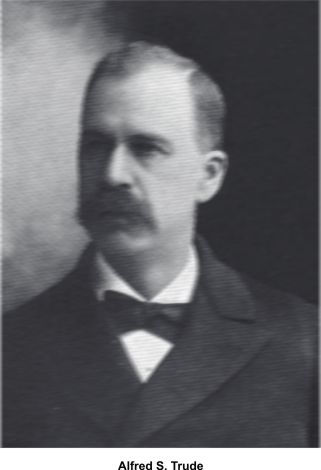 family in the prosecution. Despite Clarence Darrow's insanity defense, Trude assisted in hanging Harrison's slayer, Patrick Prendergast. Trude received a postcard from Prendergast and is referenced in the The Devil in the White City book by by Erik Larson.
In the Iroquois Theater trials, Trude represented mayor Carter Harrison in January, 1904 and was part of a March, 1905 team seeking a venue change.
Trude left behind an estate valued at $2 million, including, "a half interest in the land on which the City Hall Square building rests, a half interest in another plot in the heart of the LaSalle street financial district, part of the land beneath the Peoples Gas Light and Coke company head quarters at Michigan Avenue and Adams street, and another plot adjoining the Hotel Sherman."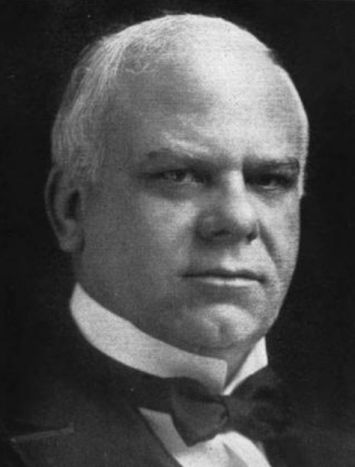 James J. Barbour
(1869-1946) assistant state attorney who prepared witnesses for the March, 1907 trial. His effort was for naught because the defendant was acquitted without testimony from a single witness. Barbour was optimistic enough, however, that on Friday, March 9, he sent word to thirty-five witnesses that had been sent home when Mayer began his thirteen-hour argument on Wednesday, March 7, that they should return on Monday, March 11, 1907.
Barbour had been appointed assistant state attorney by Charles S. Deneen, in January, 1904. During his term in office he prosecuted dozens of murder cases and was a prosecuting attorney in the Eastland disaster.

Barbour later served two terms as a republican state senator from the 6th district.
Francis "Frank Preston Blair III (1856-1914)
, assistant state attorney, co-chaired the prosecution with Albert Barnes during the special grand jury in February, 1904. He and his wife, Florence Price Blair, Missouri natives both, had one child. Frank graduated from West Point, following a family tradition of military achievement and political involvement. His ancestry included a veteran of the American Revolution and his father was an American Civil War major general – who ran as vice president in 1868 with Horatio Seymour in a failed presidential campaign against Ulysses S. Grant. Frank's grandfather was a journalist and advisor to president Lincoln. Two weeks before the grand jury opened, Frank's brother, James Blair, died in Florida.
Pointing at Will J. Davis, Buckingham addressed the court:
"Frame us a ship as beautiful as any that ever sailed the seas. Invite the 1,600 to come aboard. Sail on tonight over the seas of death, and you, Mr. Captain, without any life preservers. Is not that master responsible before God and man?
George Tracy Buckingham (1864
-1958 ) assistant state attorney who helped James Barbour prepare witnesses for the 1907 criminal trial aborted by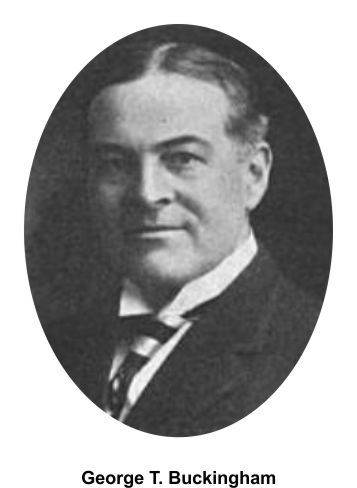 acquittal of the defendant. Buckingham did have the opportunity to deliver an impassioned final plea to judge Kimbrough, on the evening of March 8, 1907, that was later praised by the judge.
"It was not the construction of the Iroquois theater, your honor, that caused the bitter sacrifice of 596 lives in the fire. It was not the plans. It was the failure of the manager to carry on the business in a le
g

itimate manner. It was his failure to provide the first necessities for the safety of life demanded by the city of Chicago."
In the years after the Iroquois trial, Buckingham became a corporate defense attorney, defending railroads, packing houses and fisheries.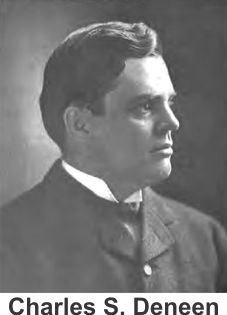 Charles S. Deneen
(1863 - 1940) state attorney 1896-1904, supervisor of assistant state attorneys involved in Iroquois cases, including Albert Barnes,
Frank Blair,
James Barbour, etc. Deneen was running for governor in 1904 so had minimal involvement in Iroquois case. Twenty years later served as a U.S. senator from Illinois.
John J. Healy (1866 - 1948) states attorney 1904-1908, succeeding Charles Deneen. In February, 1905, Healy announced he was going to prosecute Klaw & Erlanger theater trust for its role in the Iroquois Theater disaster, assisted by a father of one of the victims, Henry Shabad.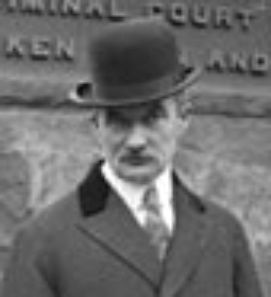 The grand jury, however, declined to indict the syndicate owners. In 1906 Healy tried to thwart Levy Mayer's venue-change petition for Will J. Davis' manslaughter trial (the second such petition, the first petition having been voided when the first indictment was quashed). Healy argued that affidavits submitted by the defense were signed by people who had not read the contents and that another county should not have to incur the $50,000 cost for the trial.
In later years Healy was in practice with senator and former boss, Charles S. Deneen. Reportedly his career as a prosecutor was ended when he ran afoul of Chicago brewers by enforcing Sunday closing ordinances. In 1900 he married Katherine Andrews and the pair produced five children.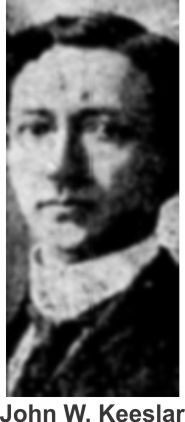 John W. Keeslar
(1864-1915) assistant state attorney who helped James Barbour and George Buckingham prepare dozens of prosecution witnesses. The witnesses traveled from Chicago to Danville on Wednesday, March 7, 1907 and were then sent home when Levy Mayer began his successful thirteen-hour argument that Chicago's building ordinances were illegal and not enforceable.
Keeslar, a Danville resident, was married to Effie Sandusky and they had a daughter named Nellie.
Thomas Duerson Knight
(1863-1938) - attorney in private practice. Represented the seven family members of Arthur Hull, John McKenna and James Jackson, and was a co-founder of the Iroquois Memorial Association. A Kentucky native and graduate of Williams College, a democrat turned republican, former Cook County assistant state attorney, son of Moses and Martha Knight, husband of Helen Whitaker Fowle Knight, father of World War I ace pilot "Dewey" Thomas Duerson Knight jr and future campaign manager for 1920 presidential contender Frank Lowden, Knight represented Chicago labor unions in Chicago's early 1900s.
Erasmus Christopher Lindley
(1870-1957) was an assistant state attorney. On February 10, 1905 he represented the people when judges Theodore Green and Kersten quashed the indictment against Will J. Davis. A month later Lindley was on hand to protest against a change of venue for Davis' manslaughter trial.
Lindley was an 1895 graduate of the University of Michigan
in Ann Arbor

and served in the US Navy during the Spanish American war. He began practicing law in Chicago in 1896

and was appointed assistant state attorney when Howard O. Sprogle resigned in November, 1903. Note: the 1900 US Census reported that Lindley was born in Kansas but a bio at the time of his appointment to assistant state attorney reported that he was born in Indiana. Based on genealogy information found about his Quaker parents, Osmon and Achsah Wilson Lindley, I am pretty sure he was born in Indiana and around age eight, after the death of his father, moved to Kansas with his mother and three of his twelve siblings. Some period sources had his name as Erastus but most used Erasmus; for business purposes he went by E. C. Lindley. His mother reported it as Erasmus in the 1880 US census so I'm going with that. He left Chicago around 1916 when he became general counsel for the Great Northern Railway, then a corporate vice president, and married Clara Ann Hill, one of the eight daughters born to the railway's CEO, James J. Hill.
Lindley left the prosecutor's office to become counsel of the Sanitation Board.
Harry Olson (1867-1935)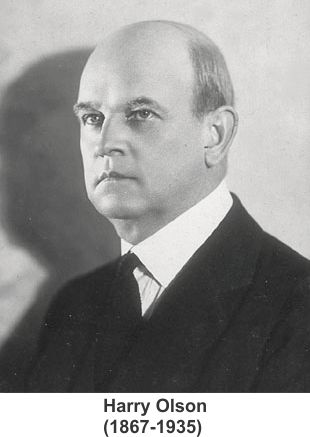 In June, 1906 as assistant state attorney, Olson went with John Healy, state attorney, before judge Ben M. Smith to counter defense attorney Mayer's petition for a venue change in Will J. Davis' manslaughter trial. Olson and Healy had inherited the case from his predecessor, Erasamus C. Lindley, who had inherited it from Albert Barnes. Mayer outmaneuvered the State, producing three times the number of affidavits demonstrating Davis could not receive a fair trial in Chicago.
Harry was married to Bernice Miller and they had three children. In the October '06 election he won a seat as justice in Chicago's municipal court.