Three of William Hennessy's* sons went to the Iroquois Theater, where they sat in the third-floor balcony. The middle son, Willie, did not return home.
Sixteen-year-old John Earl Hennessy's (1887-1972) life was threatened by his severe burns, including the loss of one hand, with his other hand deformed and his face badly scared. He also suffered internal injuries and was not expected to live.
Earl survived and as an adult became a writer of short stories. He continued living with his mother after his father's death in 1923.
Last survivor?
In his obituary it was reported that he was the last Iroquois Theater survivor. The unnamed source for this information was probably the Iroquois Memorial Association (IMA) but I doubt the accuracy of the statement. The association knew the identities of fatalities but can only have known the names of survivors who chose to make contact with the association or whose names appeared in the press in connection with media interviews or courtroom testimony. The theater did not keep record of ticket purchasers. Based on the number of tickets sold, there were around 1,400 survivors, from a half dozen states. The IMA could have scoured newspaper reports for decades after the fire but not every death notice would have included note of the deceased having survived the Iroquois Theater fire and the library did not subscribe to every newspaper in the country.
Twelve-year-old Donald Francis Hennessy (1891-1912) also survived the fire and as an adult became a bookkeeper, dying when only twenty years old, never marrying.
Fourteen-year-old William James Hennessy (b. 1889), nicknamed Willie, perished. Willie attended the Forestville School in Chicago. Other Forestville students who were Iroquois Theater fire victims: Leon Frady, Erna and Ernest Reiss and Minnie Schaffner, a teacher.
Donald, John Earl and Willie were the sons of William Henry Hennessy (1863-1923) and Annie McEnery Hennessy (1865-). William had immigrated to America from Ireland with his parents as a youngster in 1868, becoming a naturalized US citizen in 1883, and Annie/Anna was a native of New Hampshire. They married in 1887 in Hyde Park.
In 1903 the Hennessy's lived at 4411 Calumet Ave in Chicago. William Hennessy worked in sales for the Jefferson Theatre Program printing company.
That meant he worked with Chicago theater managers every day. Based on their homes, William was a good provider which meant that to support his wife and two remaining sons, he had to continue working, like all the other fathers of Iroquois Theater fire victims, but for William Hennessy that meant selling and writing orders while listening to discussions about the fire at work from co-workers and theater manager customers, all with conflicting opinions about the fire, some sympathetic to the owners, some condemning, some critical of the audience for not having calmly filed from the theater. Then he went home to share the grief with his wife and sons, helping son John with the pain of his severe injuries and learning how to function with one hand, and finding time to assuage the survivor guilt of his youngest son, Donald, who not only survived but did so without grievous injury.
In the years after the fire
In 1909 the family received two $750 settlements (around $20,000 each in 2018 dollars) from Fuller Construction, the company who built the Iroquois Theater, for John Earl's injuries and Willie's death, making them among a handful of about fifty families who received any compensation.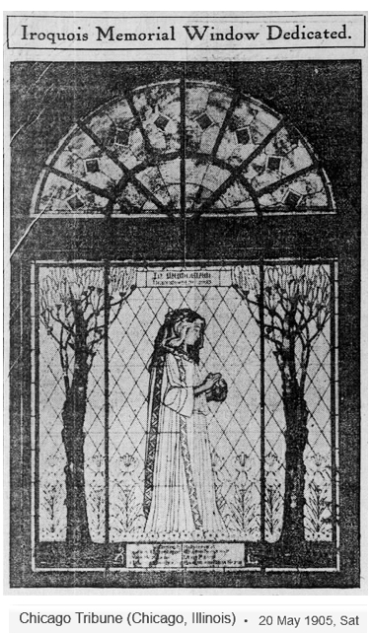 Seventeen months after the fire, a stained glass window by Louis J. Millet was installed at the Forrestville School on Forth-fifth and St. Lawrence streets. It memorialized teachers and students of the school who were victims of the Iroquois Theater fire. Located on a third-floor landing, the window included victim's names: teacher Minnie Schaffner and students Walter Bissinger, Dora Reynolds, Ernest and Erma Reynolds, Leon Frady, and William Hennessy. The window pictured a young girl bearing a lamp, shading the flame with her hand. The original Forrestville Elementary School was converted to a high school in the 1960s, razed in 1968 and replaced with the Martin Luther King High School in the early 1970s. Nothing is known of what became of the Iroquois Theater window.