Nineteen-year-old Will "Willie" J. Davis Jr. (1884-1965), was the only child of Iroquois Theatre manager and co-owners Will J. Davis and his wife, Jessie Bartlett Davis. Willie worked in the ticket office at the Iroquois and in some pre-fire newspaper notices was described as the "assistant treasurer" at the Iroquois but his actions on Dec 30, 1903 are unknown. From a remark by his father shortly after the fire it seems that Willy was present at the Iroquois during the fire, but it appears that his name was intentionally kept out of the press. No one referred to him and he was not interviewed. After the Iroquois fire, Willie worked at the Illinois Theater for his father and attended college, later becoming a lamp manufacturer (see below).
At his mother's death in 1905, he became heir to a sizable inheritance, which perhaps influenced his decision in February, 1907 to defy his father's wishes and accept a demotion from treasurer to press agent at the Illinois Theater so as to marry his sweetheart, Florence Eleanor Turtle (1884-1947). A newspaper reported that the wedding was against his father's wishes, but the light tone of the story suggests that his wedding did not create a serious fissure. Florence, a native of Pensacola, Florida, was a graduate of the Georgetown Convent. Some 1907 newspaper stories reported that Willie left his studies at Purdue University but later in life he described himself as a Purdue graduate. It should be noted, however, there were signs he inherited some of his father's P.T. Barnum genes.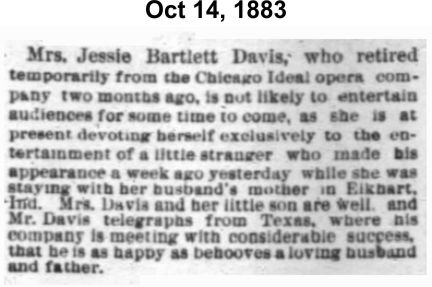 In 1916 Willie became president of the American Lighting Company founded in 1900 by W. C. Jones, Keene H. Addington and William D. Murphy Jr. It seems likely Willie used his inheritance to buy a controlling interest but I didn't find verification of that. Prior to Willie's involvement, the company spent 1902 - 1904 trying to sign contracts to light various cities around the country. Looked like a case of more ambition than capital but that's a guess.
By 1916 Willie concentrated on one product line: flood lights. The following year he sold the company to Western Electric (for unknown sum) and went to work as a sales representative for the Western Electric Davis flood lighting system. Before selling the company, in June, 1916 he donated lamps to light the Lincoln statue and Grant statues in Chicago for the first time and persuaded the city council of Niagara Falls, NY to spend $10,000 to install 25 of his 1,000-watt flood lamps to light up the American Falls and the Niagara river rapids.
After Will Sr's death in 1919, Willie, Florence and their four children lived iat one of the two farms that were part of land amassed by Will Sr. in Crown Point, IN, named Willowdale. The other farm was occupied by his stepmother, Mary Ellen O'Hagan Davis. With help from Purdue, he planted a 20-acre experimental apple orchard. Though he claimed the venture a success and predicted northwest Indiana would become an apple growing center, he sold the land in 1938 and the family relocated to Pensacola, FL.
By 1946 Willie was the executive secretary of the Pensacola Chamber of Commerce. He lost Florence the following year.